Rob's 69 Deluxe ( Part 2 )
posted on 4 March 2012 | posted in Rob's 69 Deluxe ( Part 2 ) | ( 9 ) Comments

---
This was the first original replacement door and after many hours of hanging we found it to be damaged on the hinges.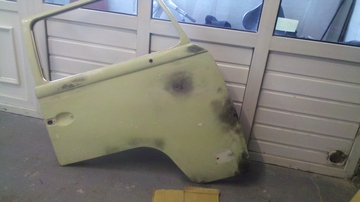 This was our only option to fit as after waiting for better candidates we were only left with the klokenholm panel.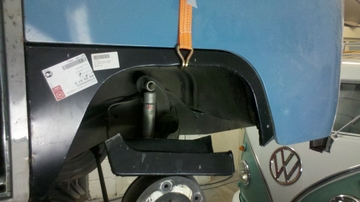 Supprise supprise it doesn't fit due to it being very poor quality so we had to cut it in half, tack, push/pull to get it acceptable.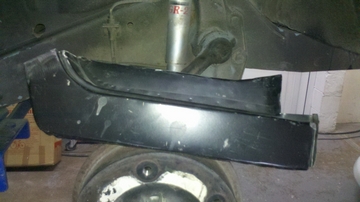 Hours spent trying unlock this door and in the end we cut it open to reach the lock.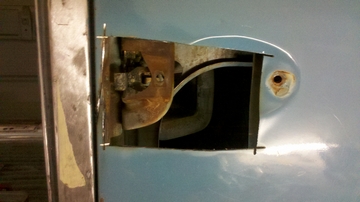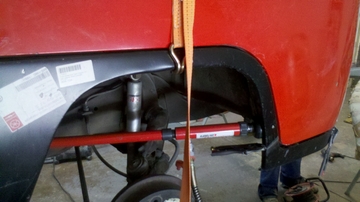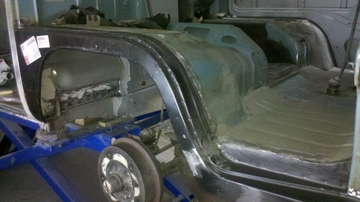 Second Replacement door and yet again found it has had an impact and the door gapping was way off.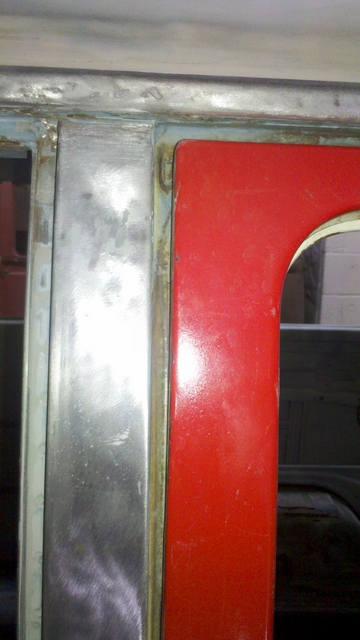 Our door off our non damaged van and as you can see gaps are brilliant!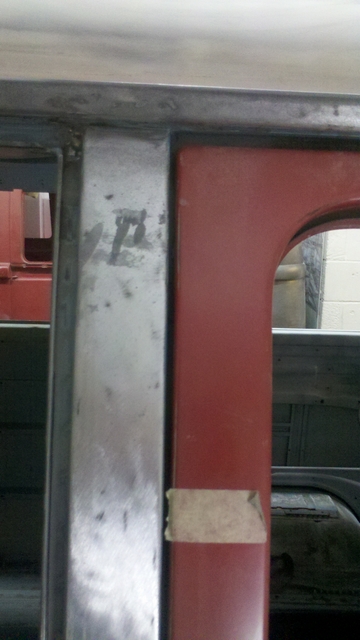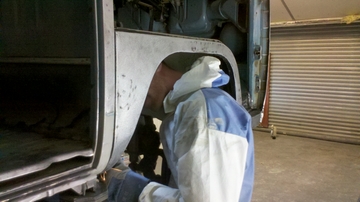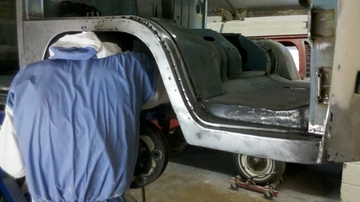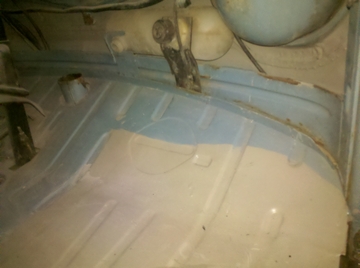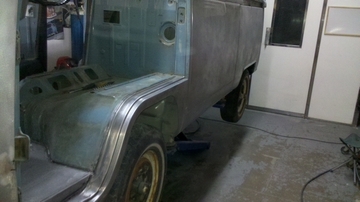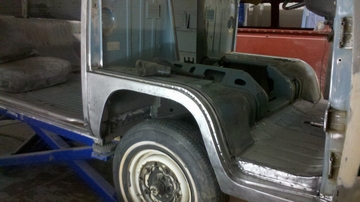 Shell phosphated and keyed ready for Epoxy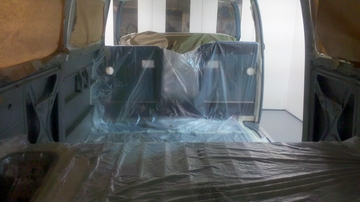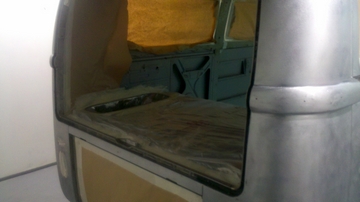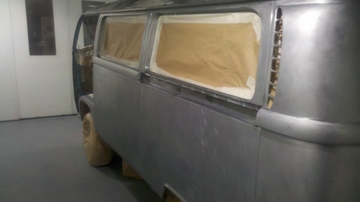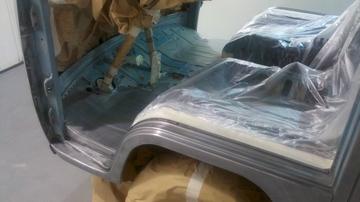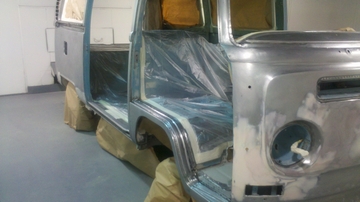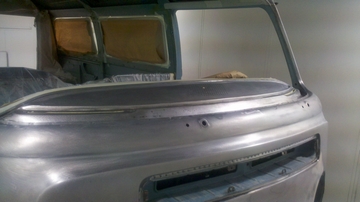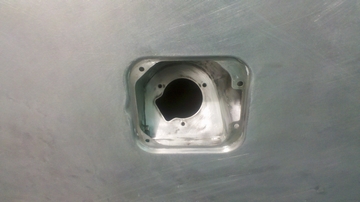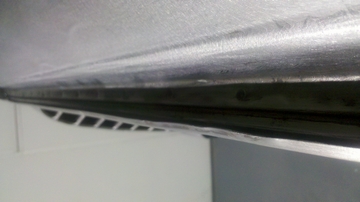 With the roof we started to heat shrink it to stop the oil canning then a later week spent panel beating to get it right.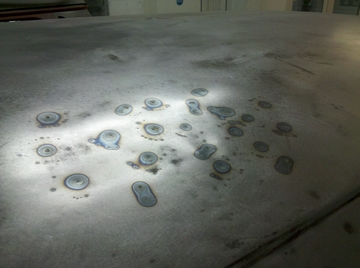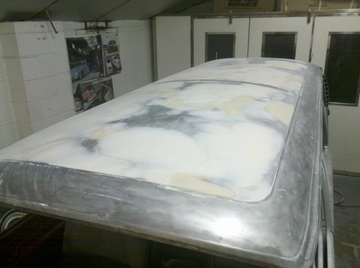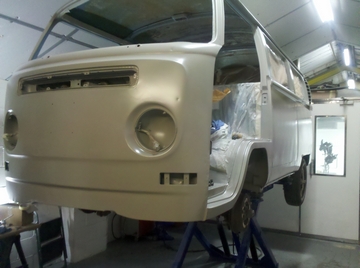 Bumpers warmed up with acetylene te be beaten into shape.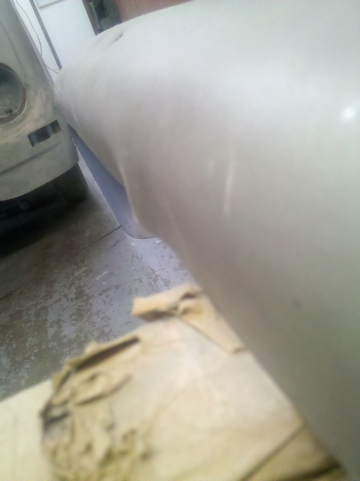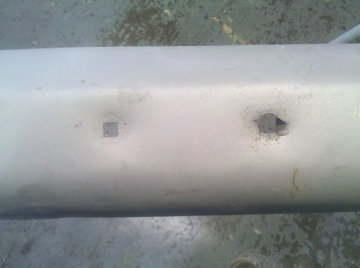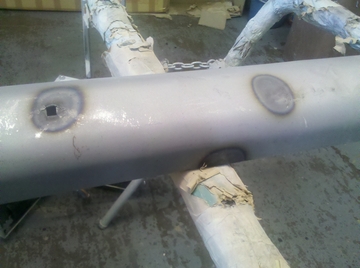 To the left you can see the step squashed and to the right pushed out..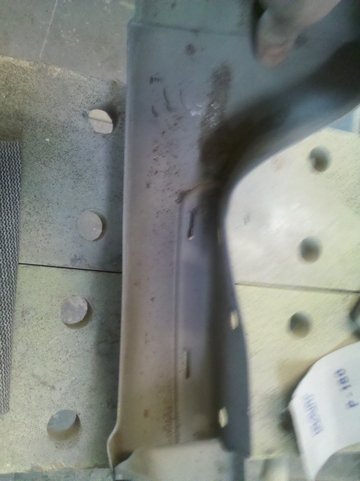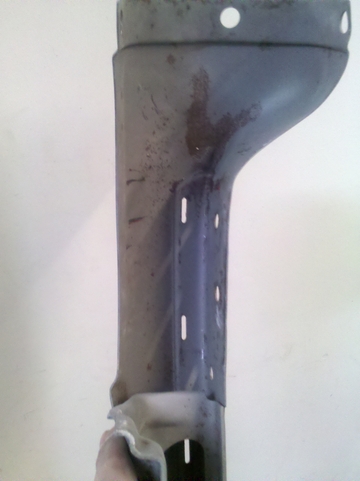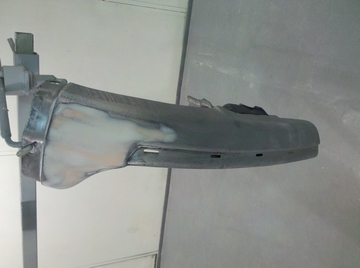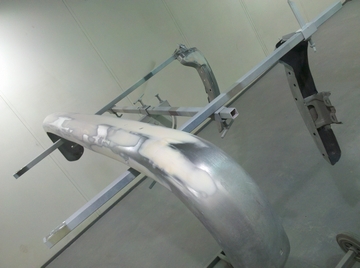 Bumpers epoxied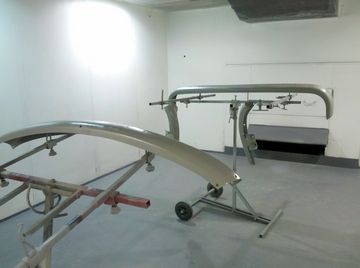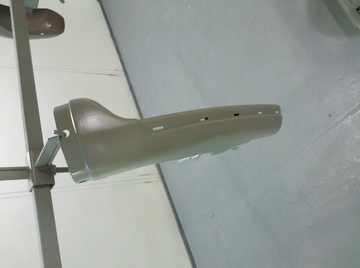 And finally the third door, a better fit but slightly rotten where the reflector was.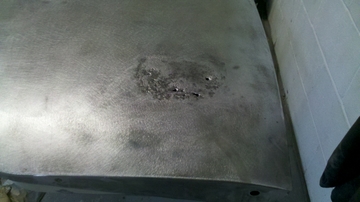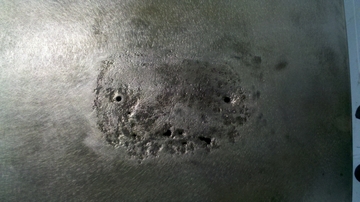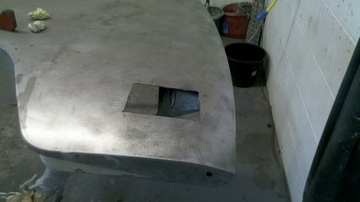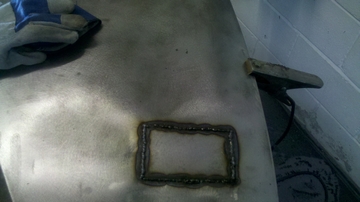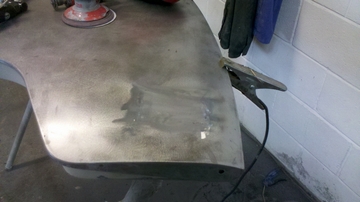 Wheels bare metaled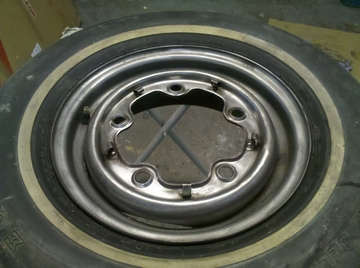 Epoxied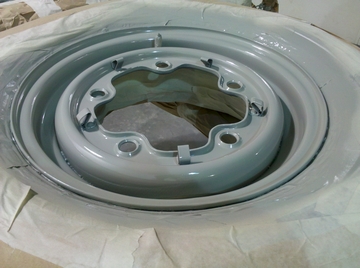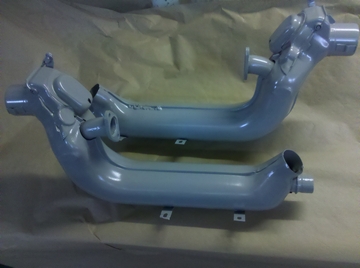 Tin wear top coated.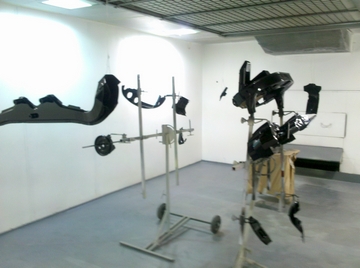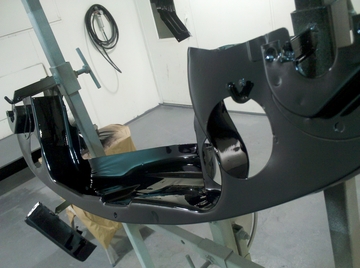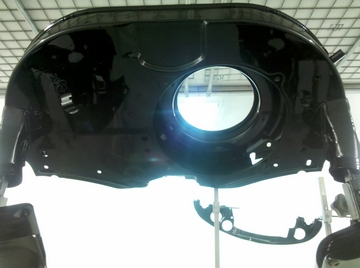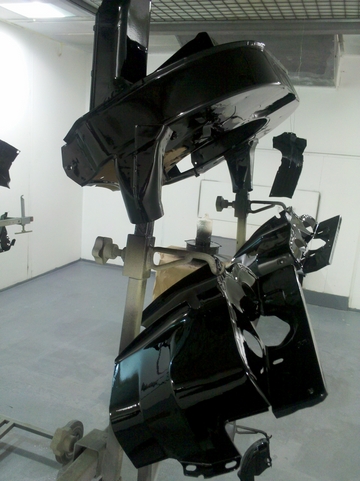 Engine steam cleaned!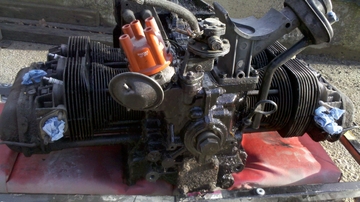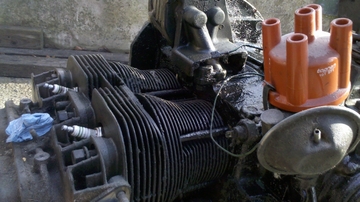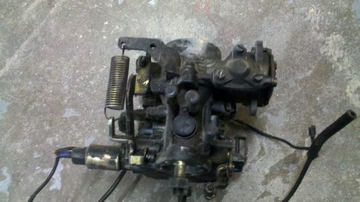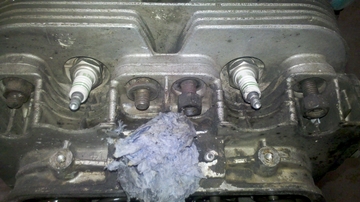 Tin ware Re fitted.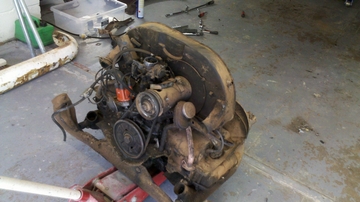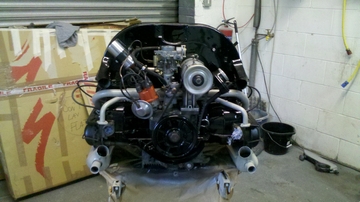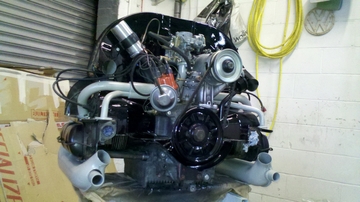 Top coated in cloud white !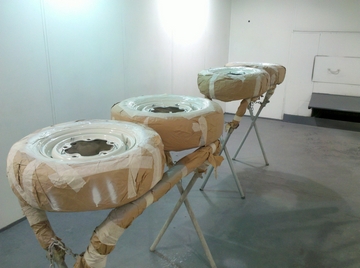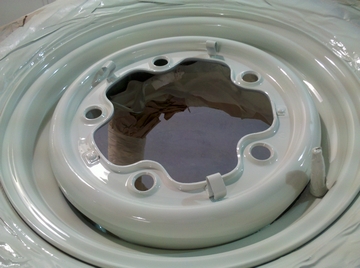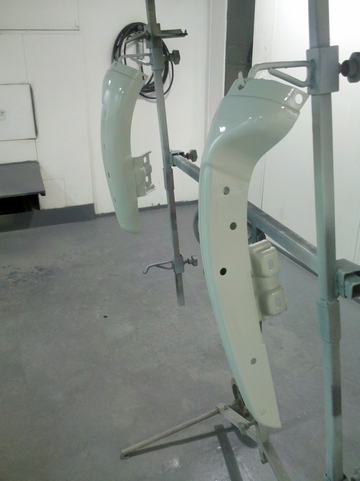 Tank cover painted in its original colour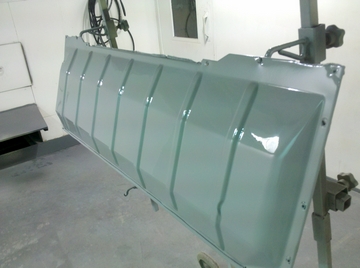 Countless hours spent skim coating and long boarding to loose all the ripples and get the correct body lines.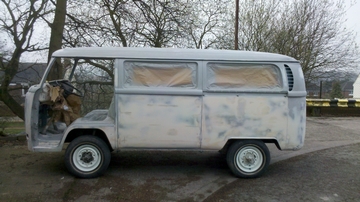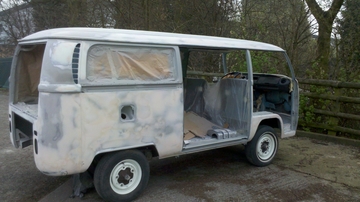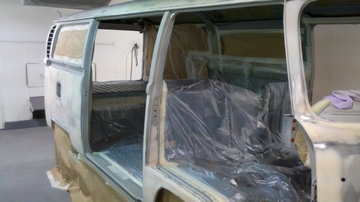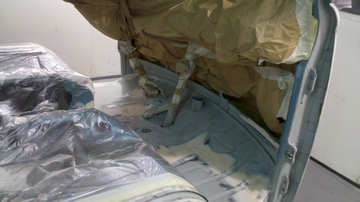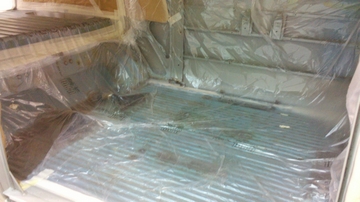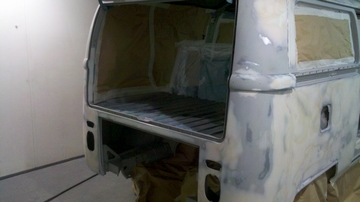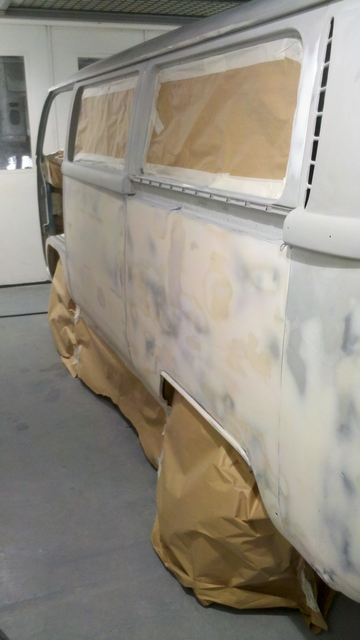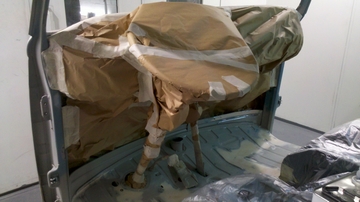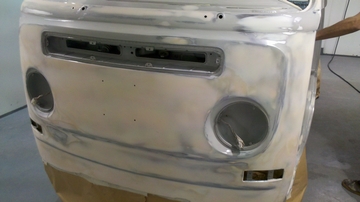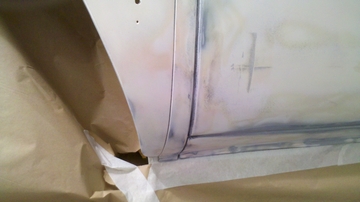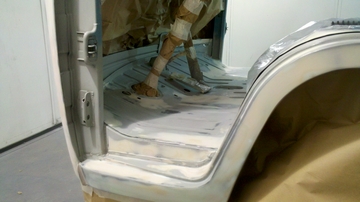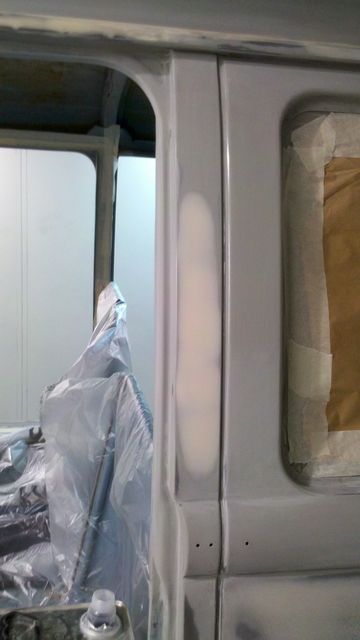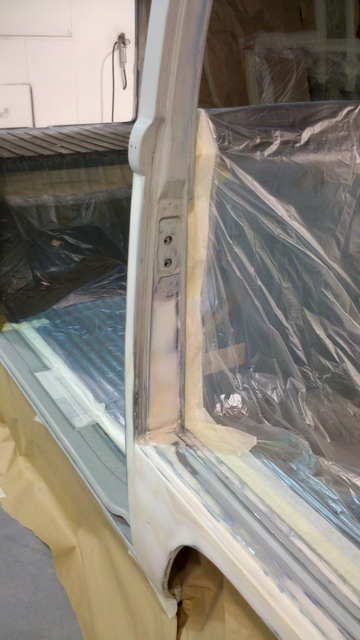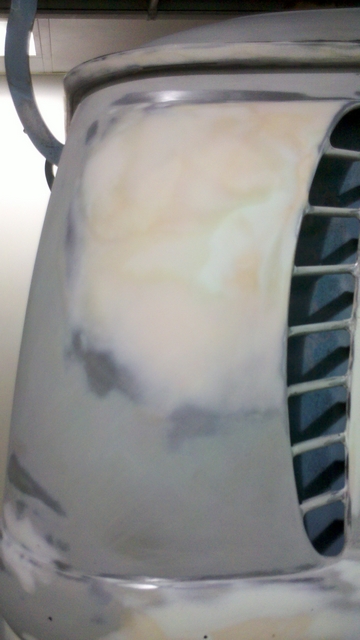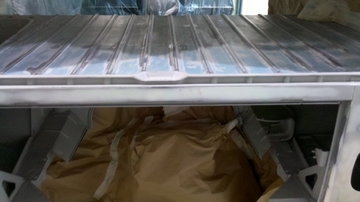 Skimmed in he engine bay for that smooth look!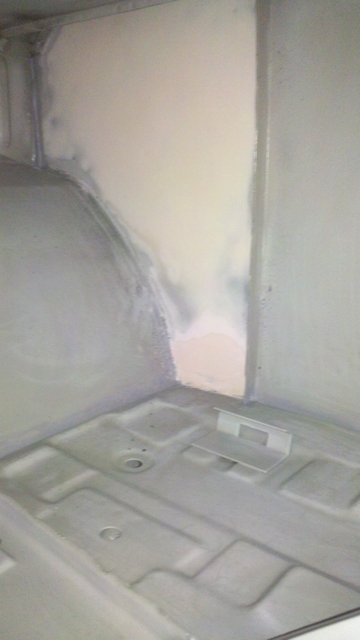 Epoxied again to seal down all repairs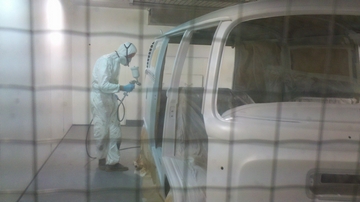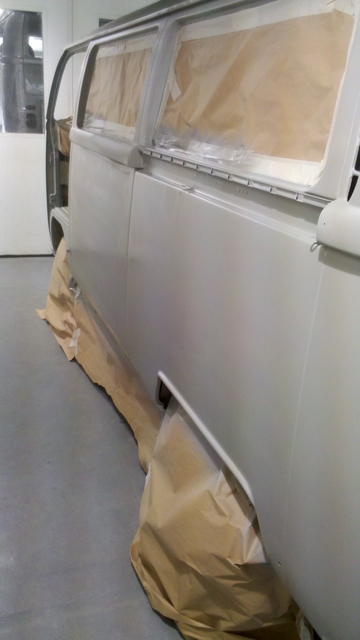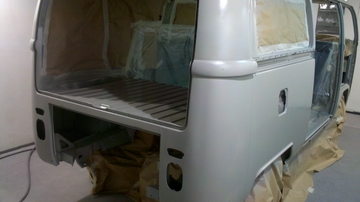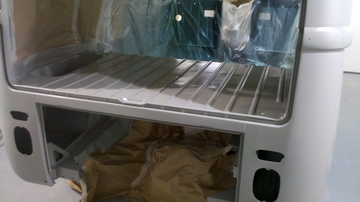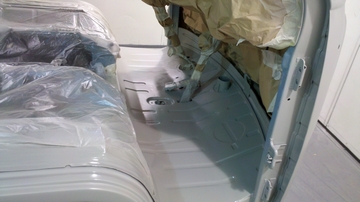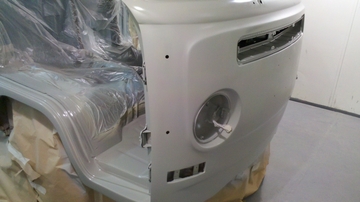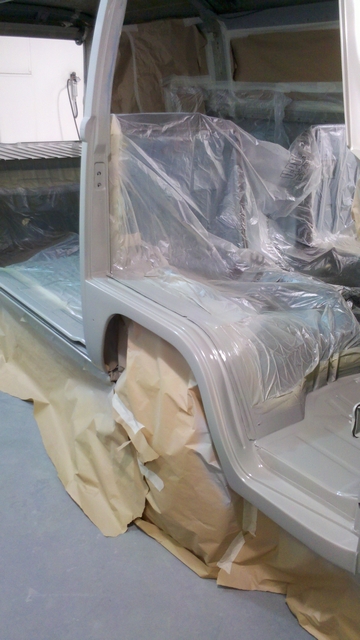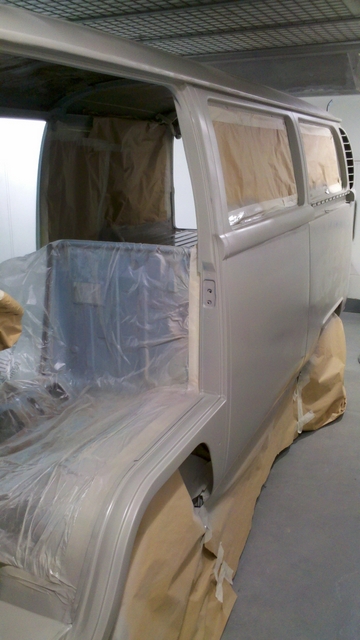 2k Surfacer/sealer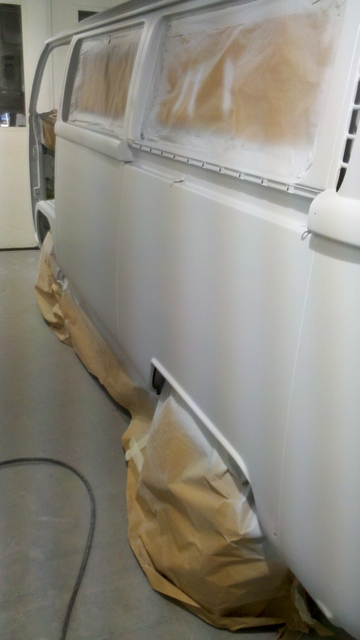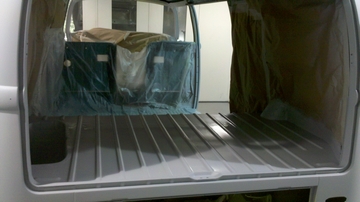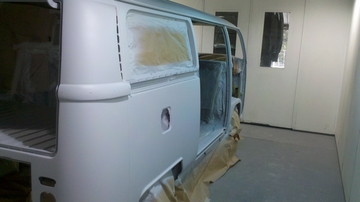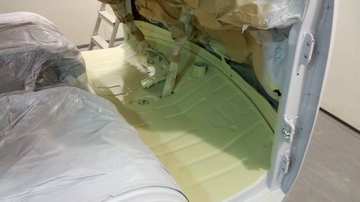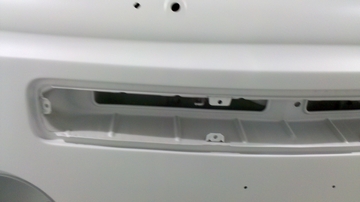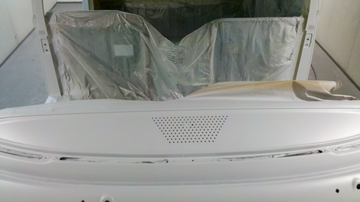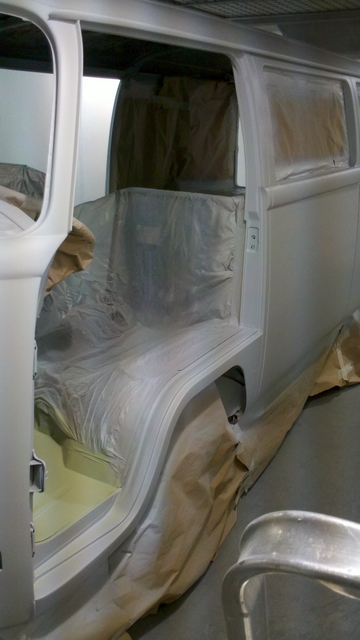 Guide coated the non rattle way!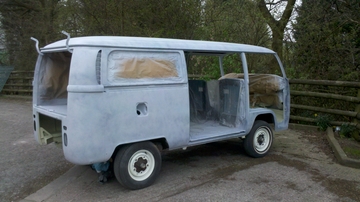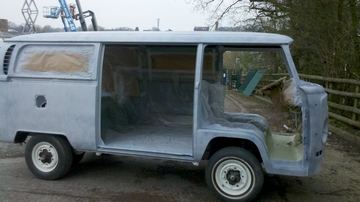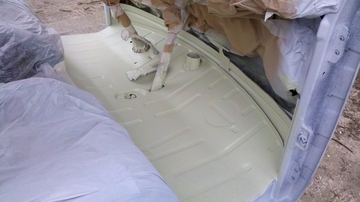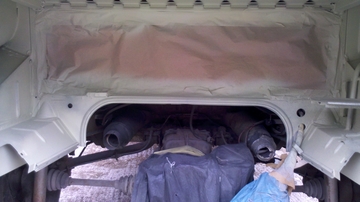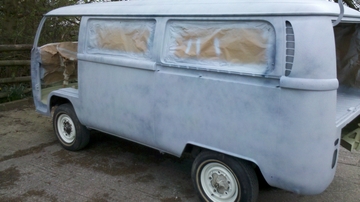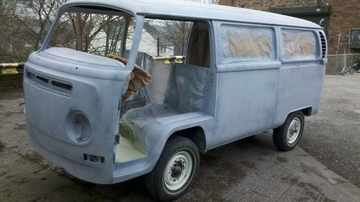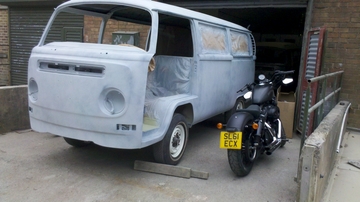 Fully water tight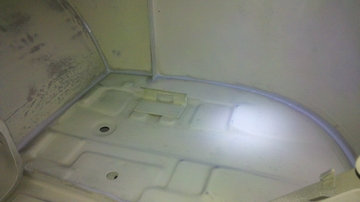 Some super quality brilliant blue goin down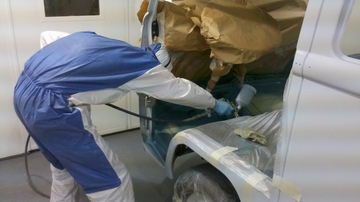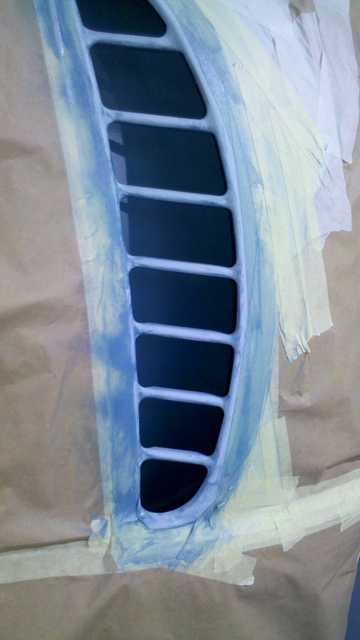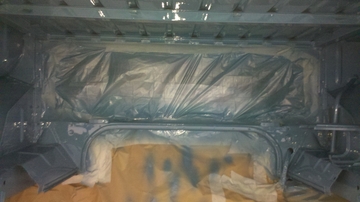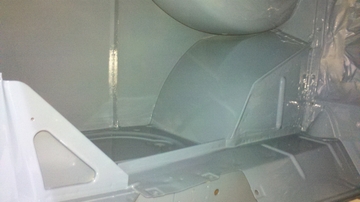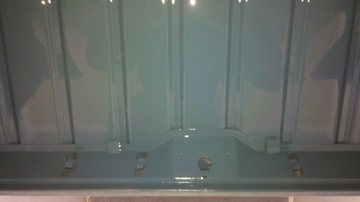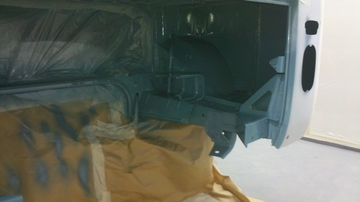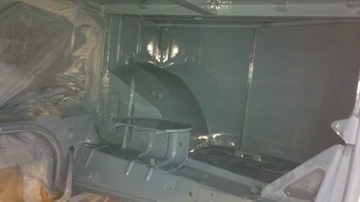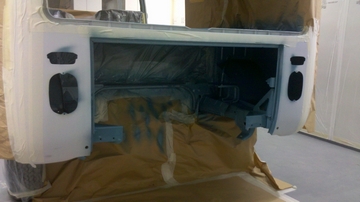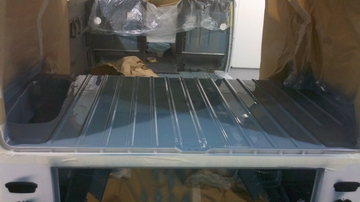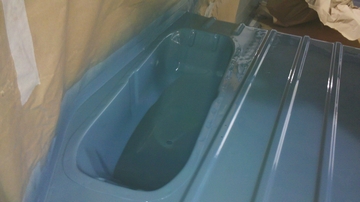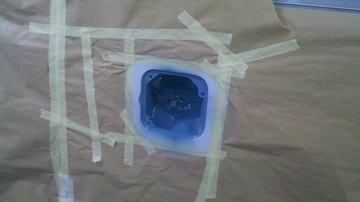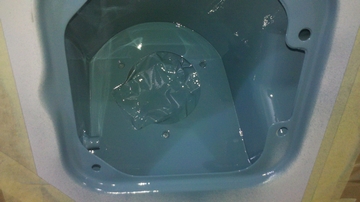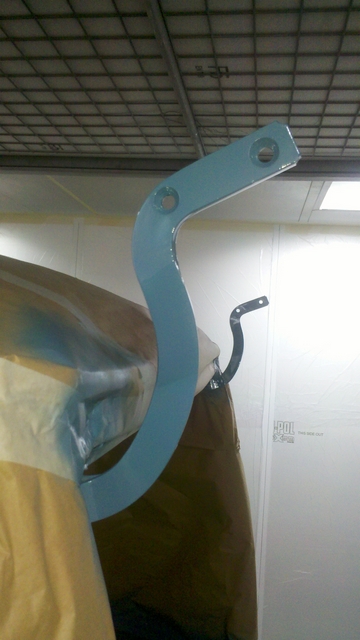 It seems a shame to put a carpet down!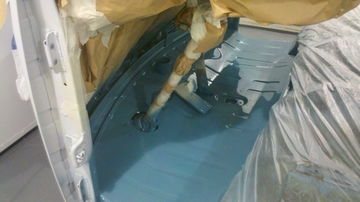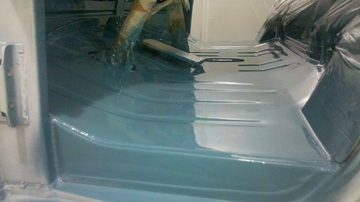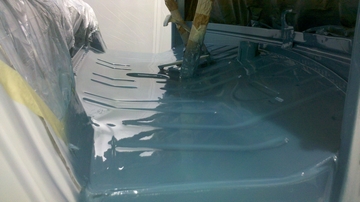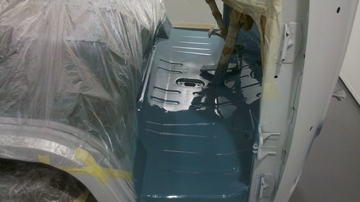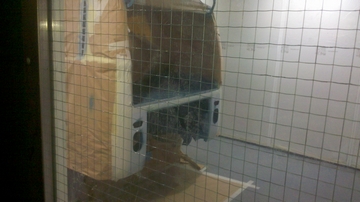 Body coated in the original colour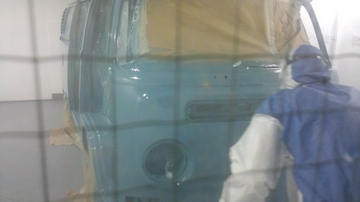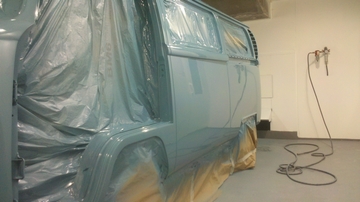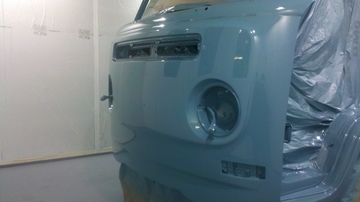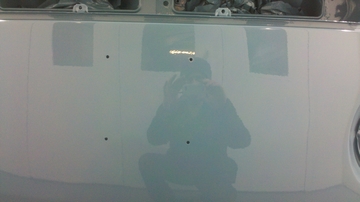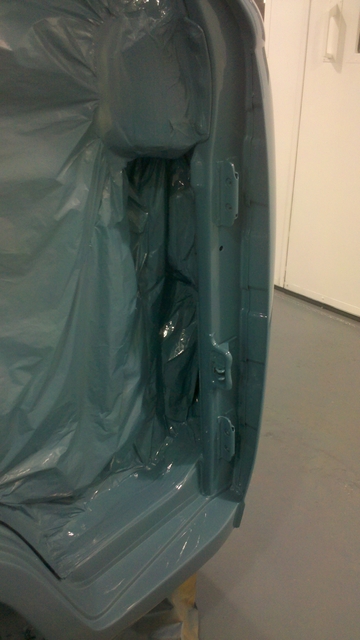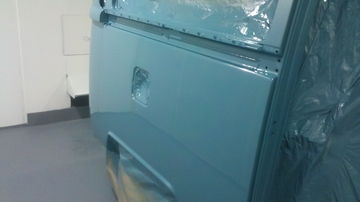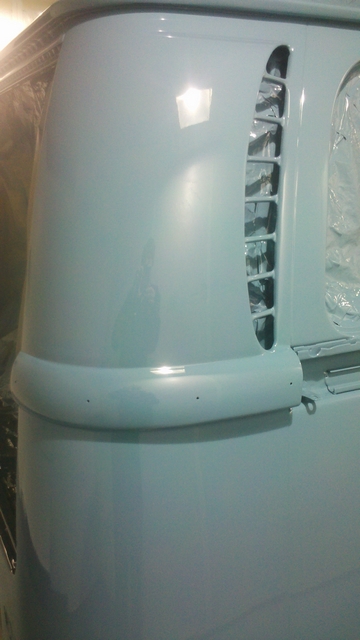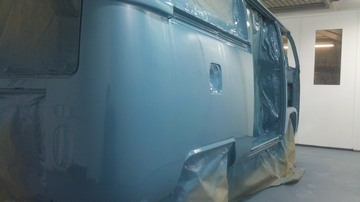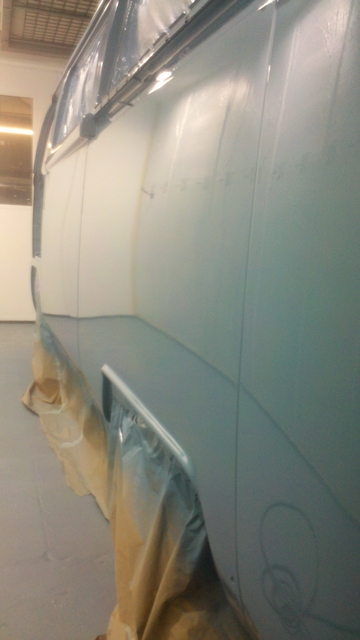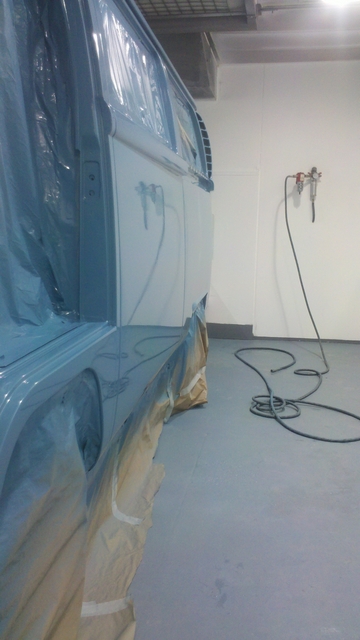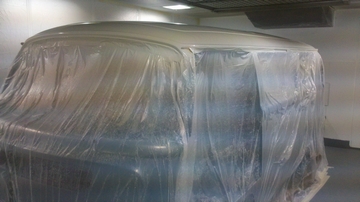 Not bad for a van thats been belly up!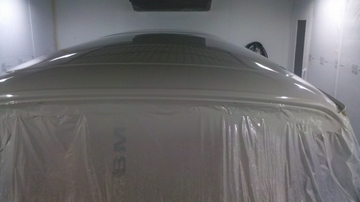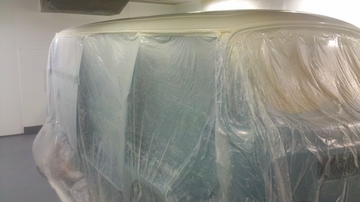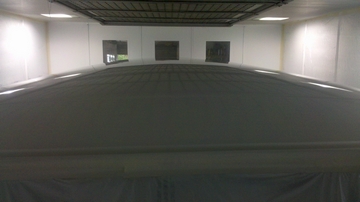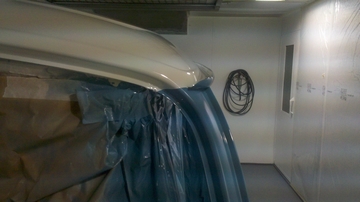 Perfect edge on the gutters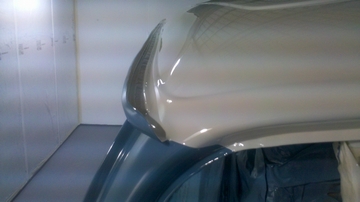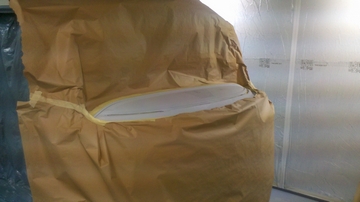 Dash painted satin black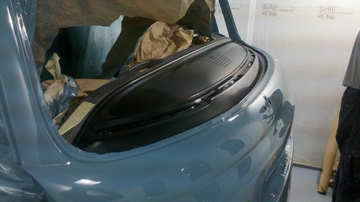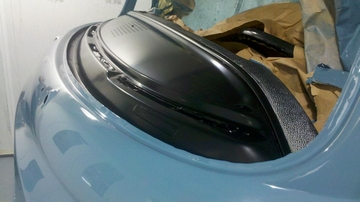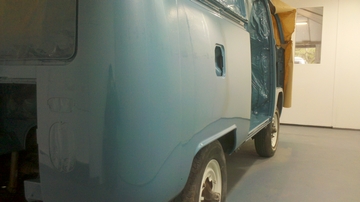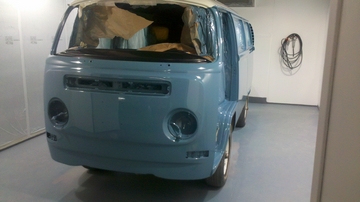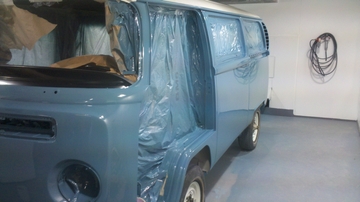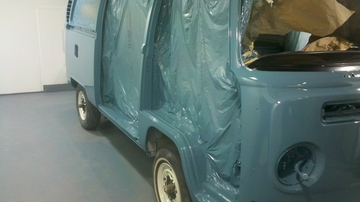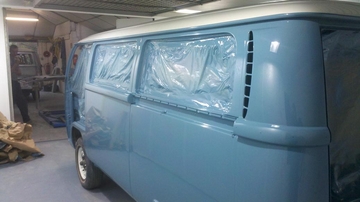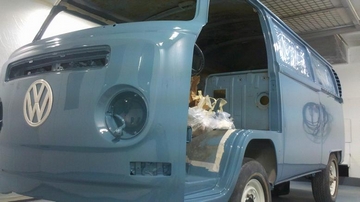 Vents properly painted....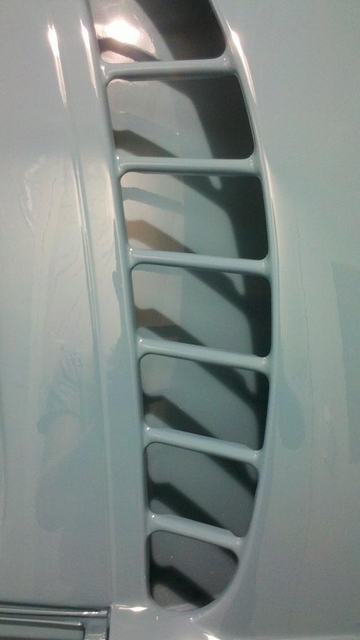 Pushed out of the booth to check the colour out in the sun!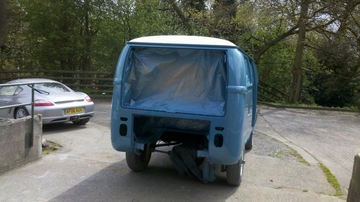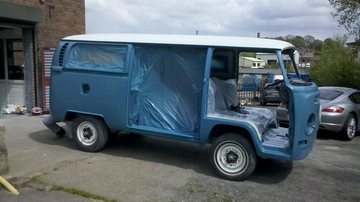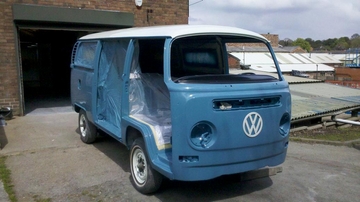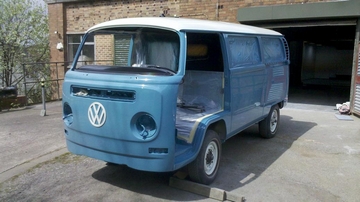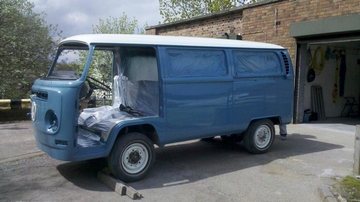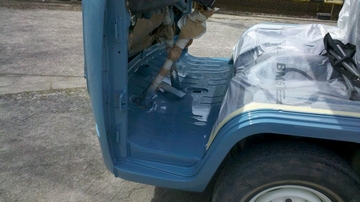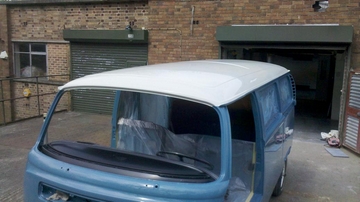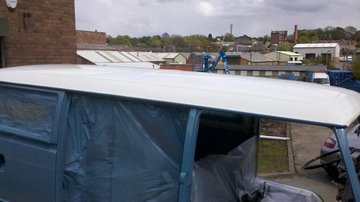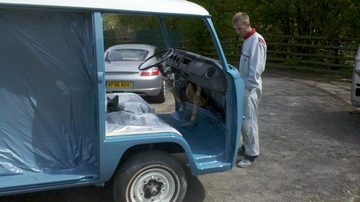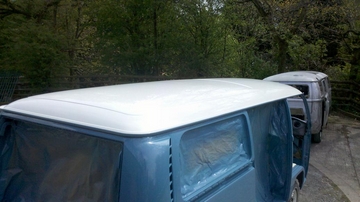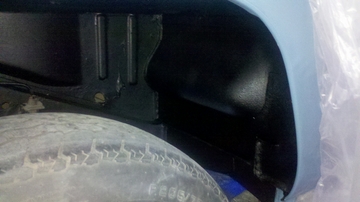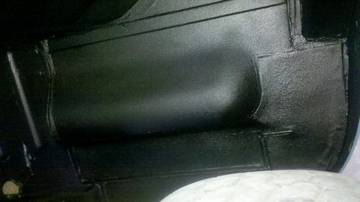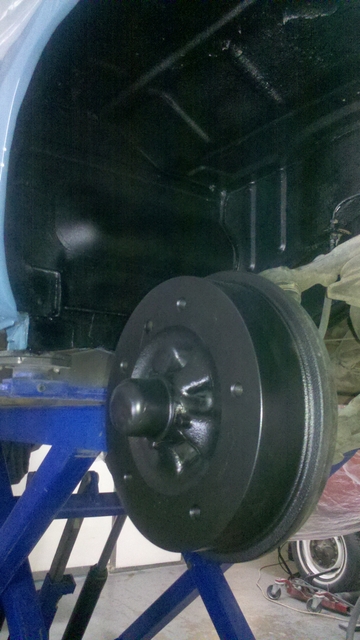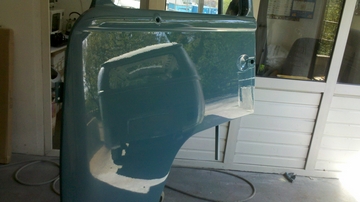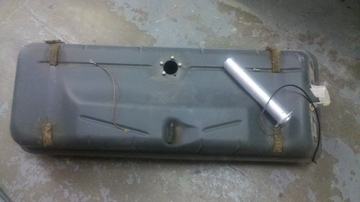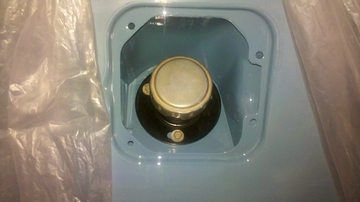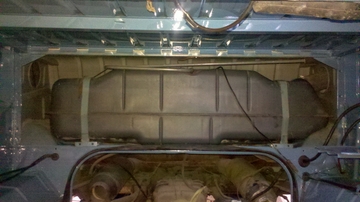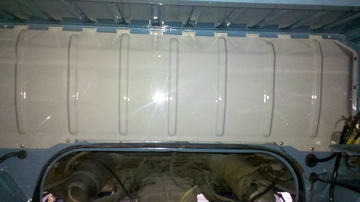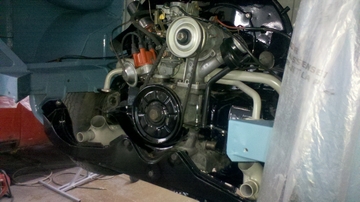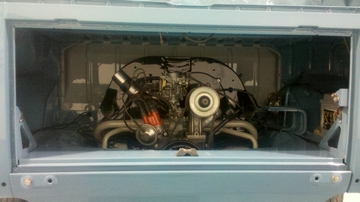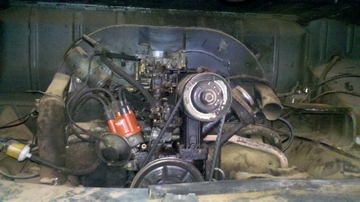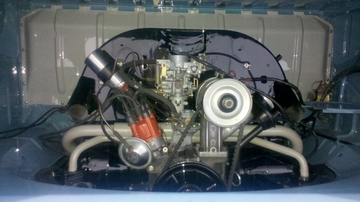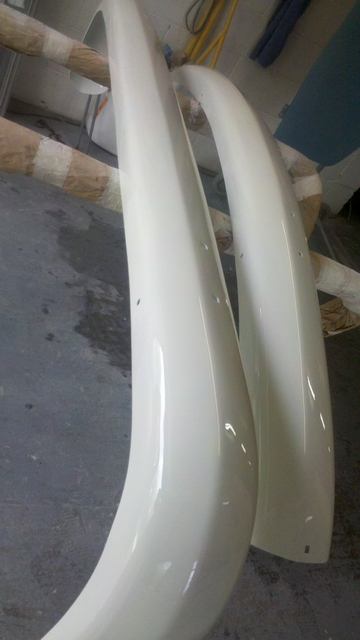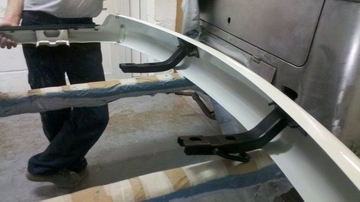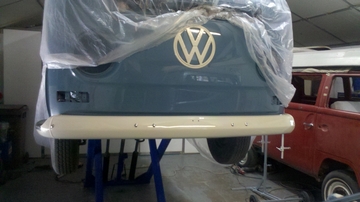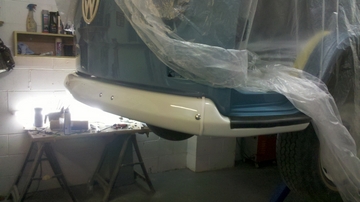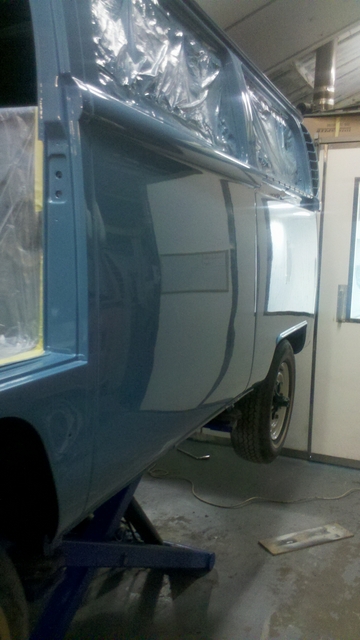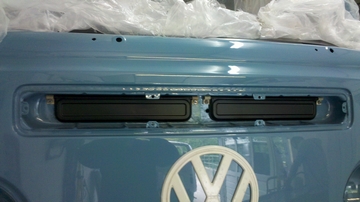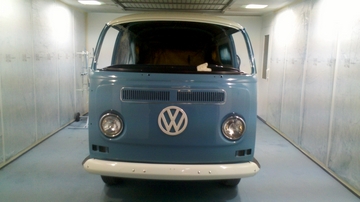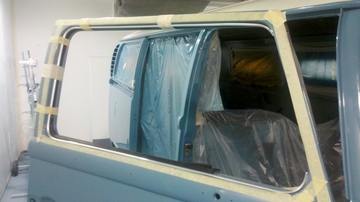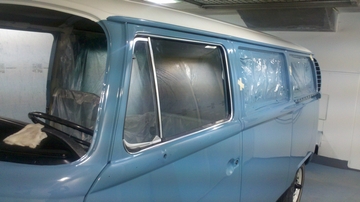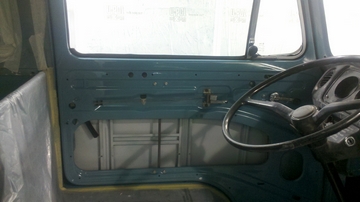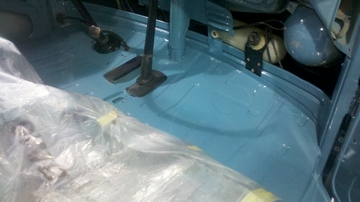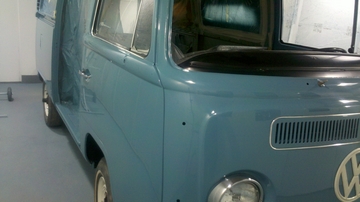 door scrapers fitted!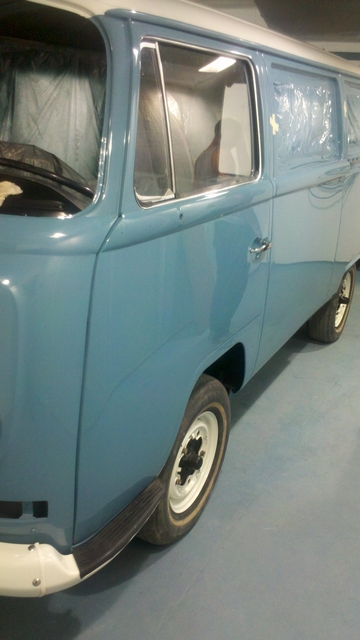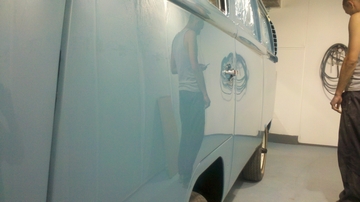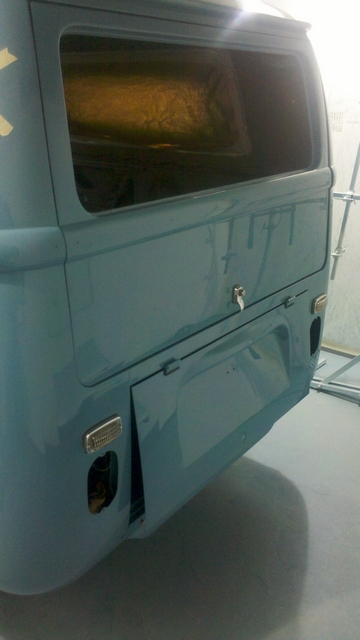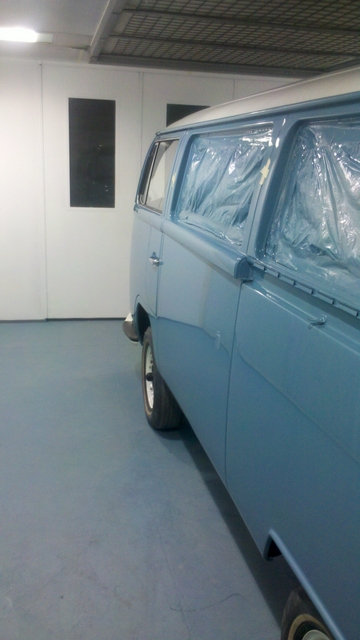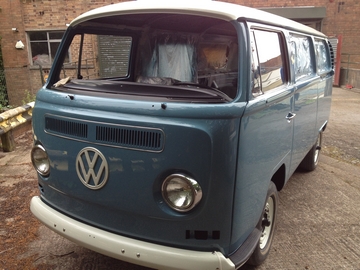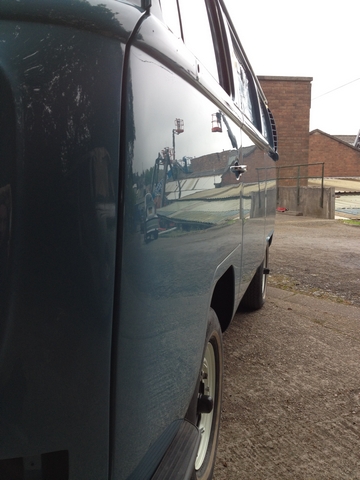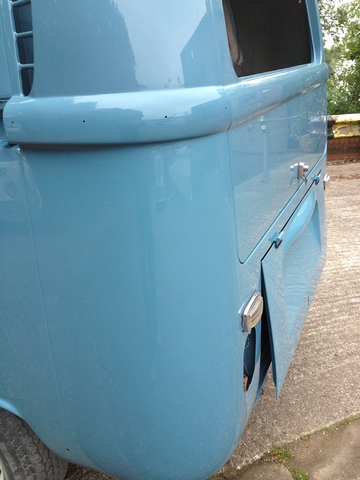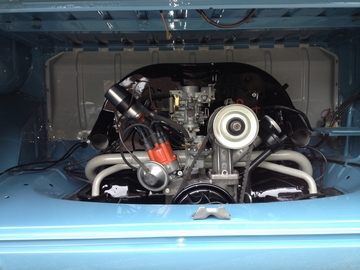 All finished awaiting final parts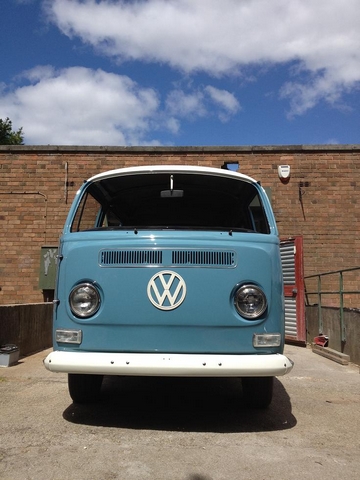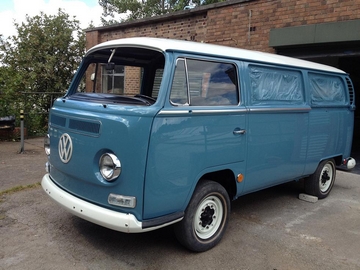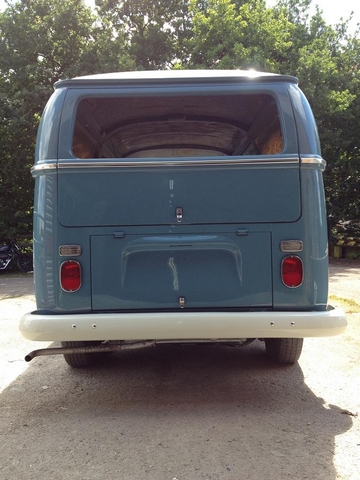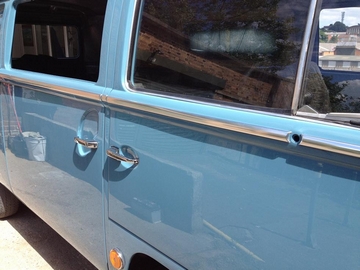 All Finished and awaiting trimmers
You can follow other blog entries via the RSS feed. You can also leave your own response. Site administrator reserves the right to reject any replies that are deemed inappropriate.

Comments ( 9 ) - Add Your Comment
---
Asolutely fantastic work. You guys are doing my bus this summer. It`s difficult trusting the quality of work by some restorers, but you guys are the best. Hats off. Excellent work.

by Lordain Volley on 5 March 2012 19:35
---
Amazing work fellas, can`t wait to drop our van off on saturday :D

by Adam on 6 March 2012 13:5
---
Can`t believe this is a californian bus!?! I`ve seen fewer panels welded into a UK van! Great work and that engine LOOKS AMAZING. I bet the owner`s well stoked with the work done.


by Bill on 6 March 2012 17:29
---
Looking fantastic Gents


by Rp on 10 March 2012 16:37
---
Awesome work guys, can`t wait to see the finished article.

by Marco on 6 April 2012 11:17
---
Thanks for looking at my bus the other week and being very honest, sold it on now, looking for a more solid camper.Thanks again for your help.

by paul on 8 April 2012 19:37
---
Getting closer, desperate to see the next postings ;)


by Rp on 21 April 2012 11:33
---
family excitement is at fever pitch.........we are all watching daily.......top job gents

by Rp on 3 May 2012 21:12
---
Awesome and beautiful, wife and kids are super happy to see this update, excellent work guys, be across to collect her soon.

by Rp on 5 May 2012 21:35
---