1969 Pearl White Westy
posted on 18 April 2011 | posted in 1969 Pearl White Westy | ( 4 ) Comments

---
This is Mark's 69 early westy, its in for a full bare metal body restoration and repainted in the original L87 Pearl White, heres how it looks.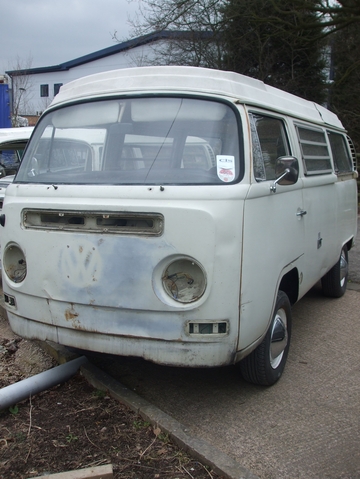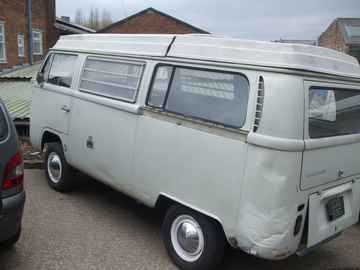 The worst of the damage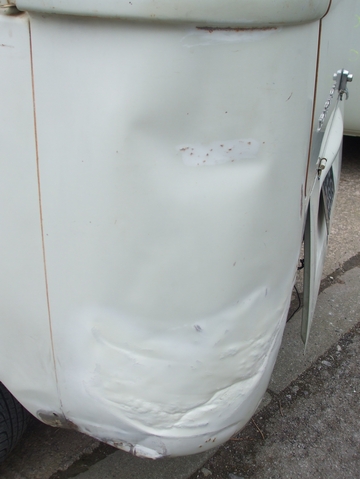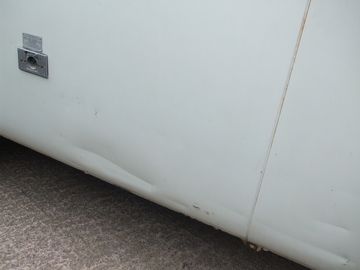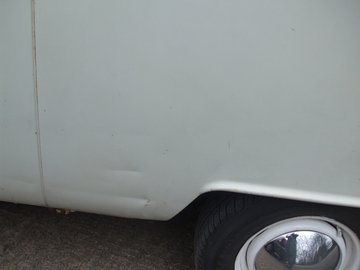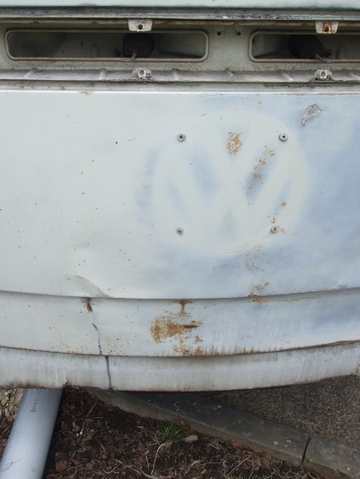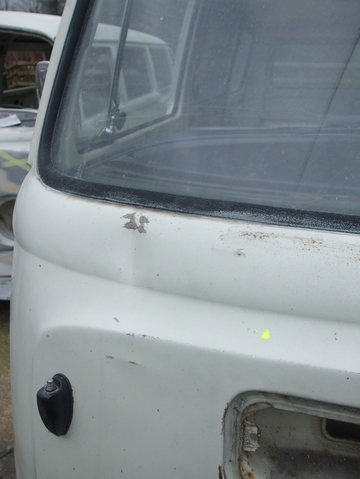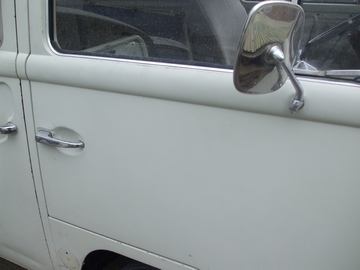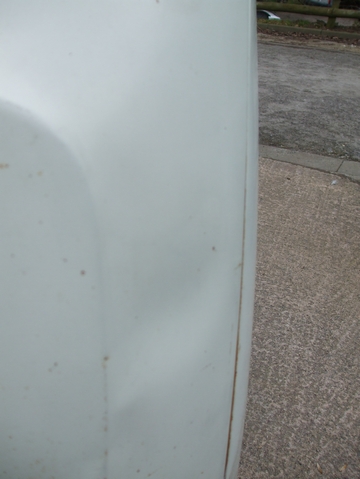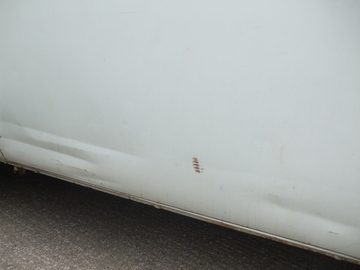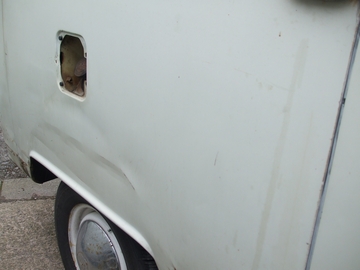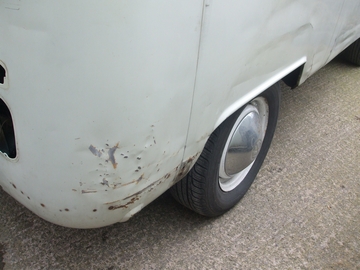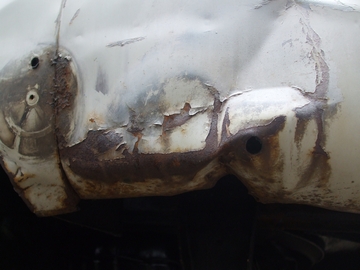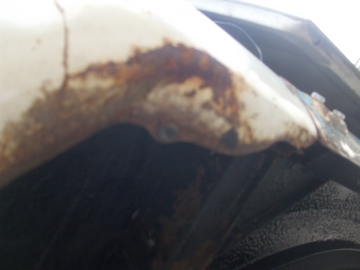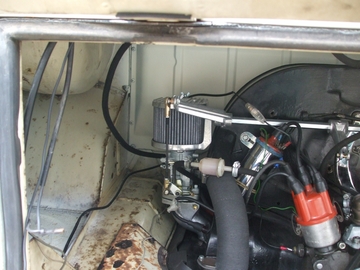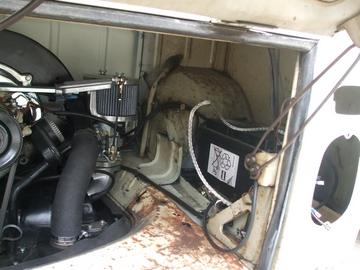 Stripping started.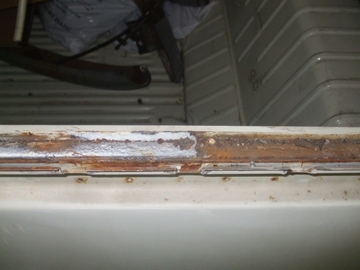 Bare metaled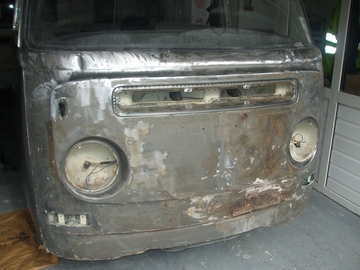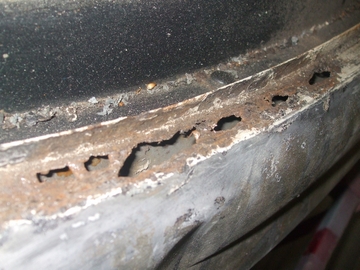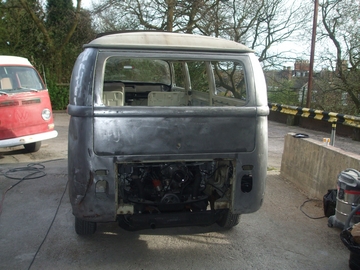 Engine out !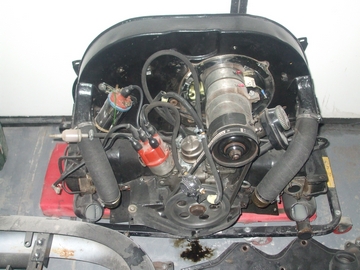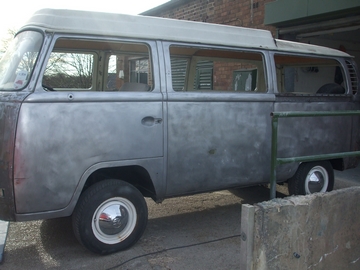 All the filler ripped out the front.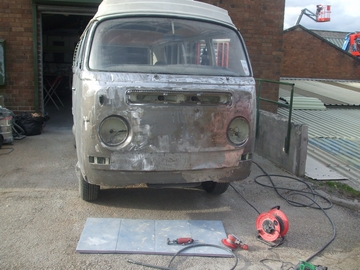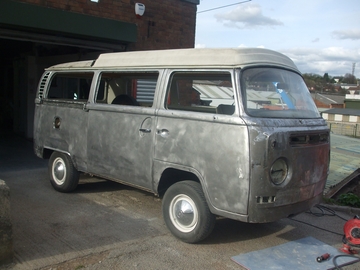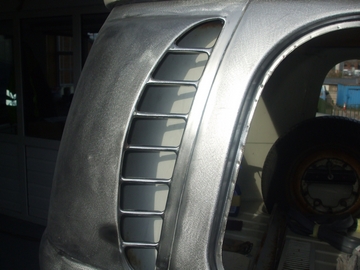 A few dents removed before we got the doors in sealer.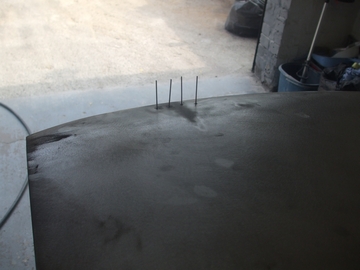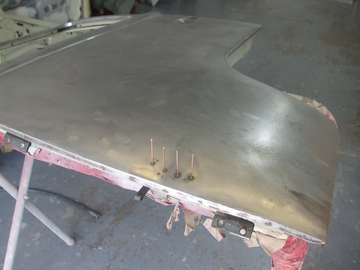 Panels epoxy sealed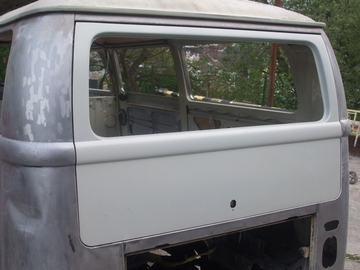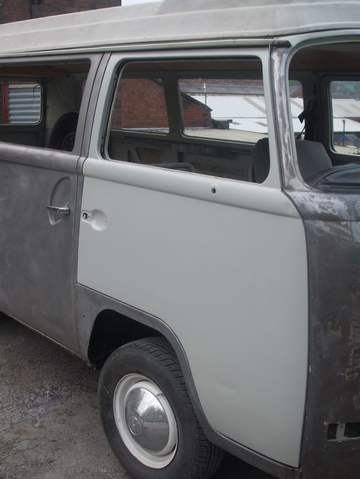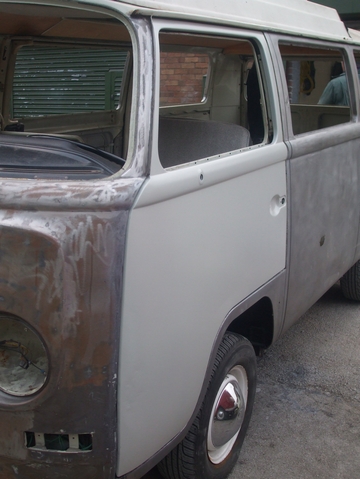 Engine out.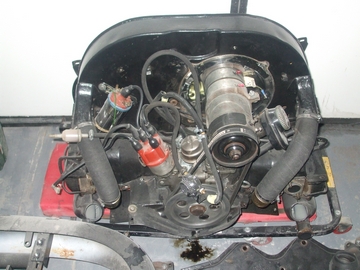 Engine bay bare metalled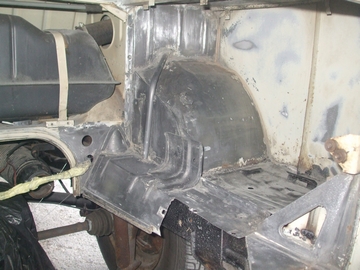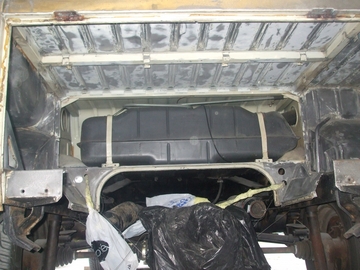 Epoxy Sealed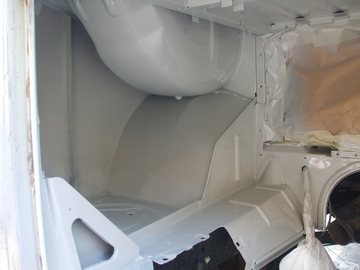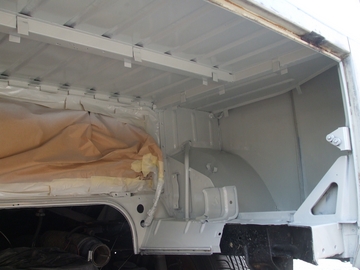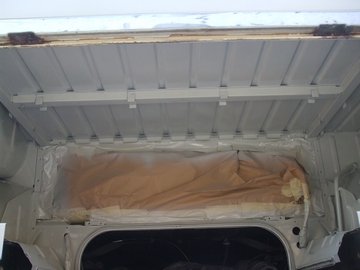 Front screen surrond was rotten in the usual place.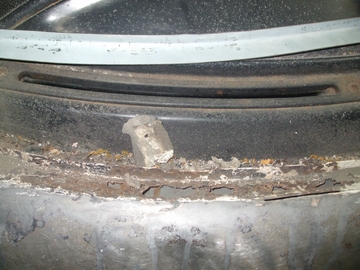 Cut out and a new piece shaped to fit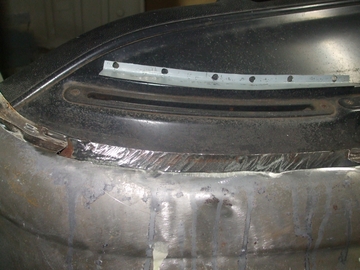 Welded and lead loaded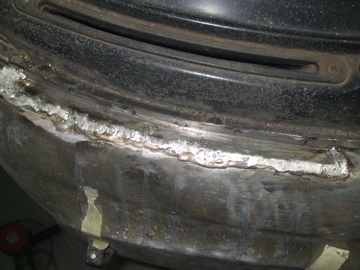 Ground smooth to a pinhole free finish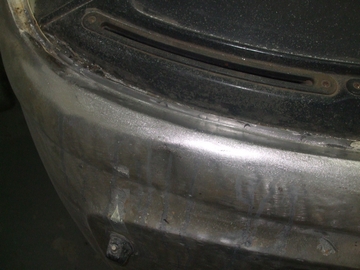 Roof bare metalled and to our supprise there was a lot of surface rust around the gutter areas.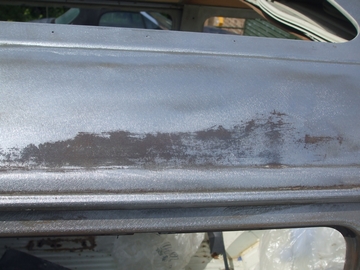 The major dents have now been pulled out of the front and a whole lot of heat shrinking going on to stop the panels oil canning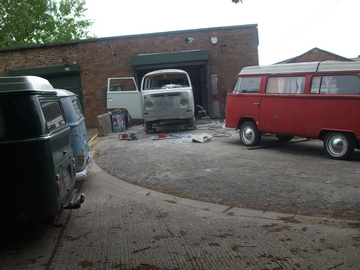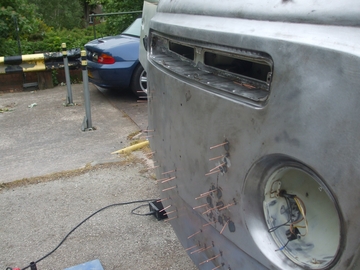 looking a whole lot better now!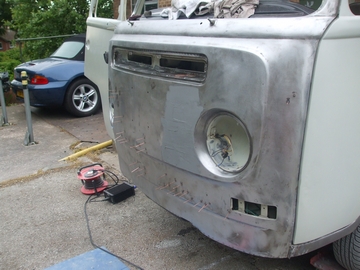 Another large dent pulled out for minimal filler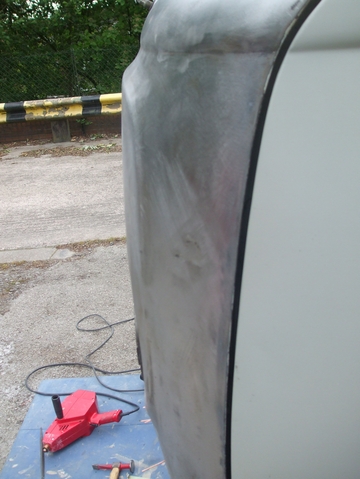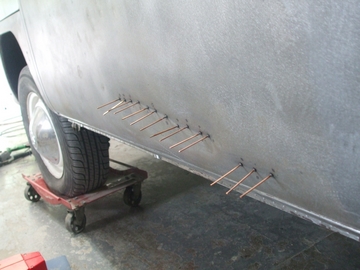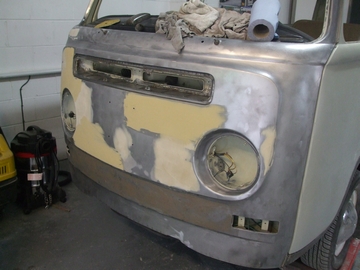 The rear corner panel beated and heat shrunk.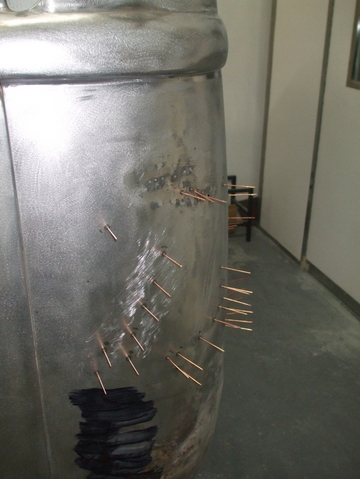 Lower half cut off and the other panel is prepped to go back on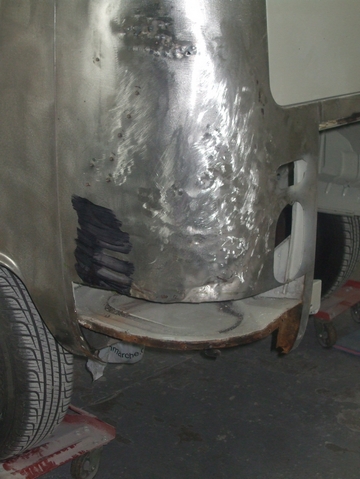 Return edge cut and ready for welding.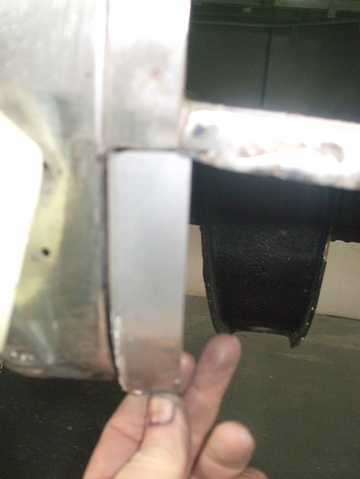 Panel prepped to size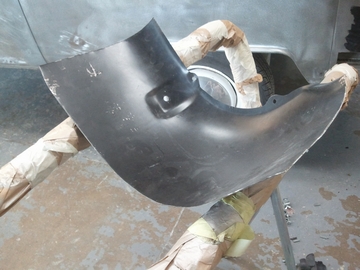 Return edge welded on.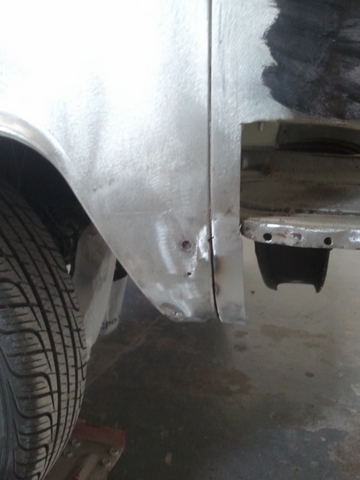 Corner offered up.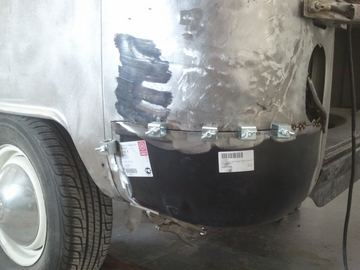 Tacked on.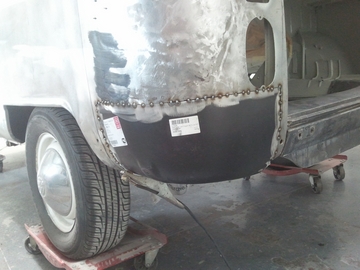 Butt welded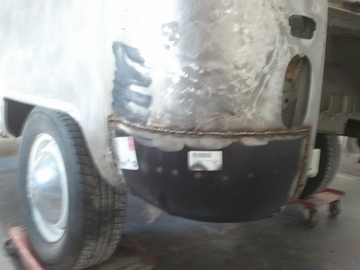 The end result!
We are very happy with this as the corner was so badly damaged we were considering cutting it off to the belly line but as we panel beated the top 3/4 out it was easier to just repalce the bottom 1/4 as it was rusty and badly folded up.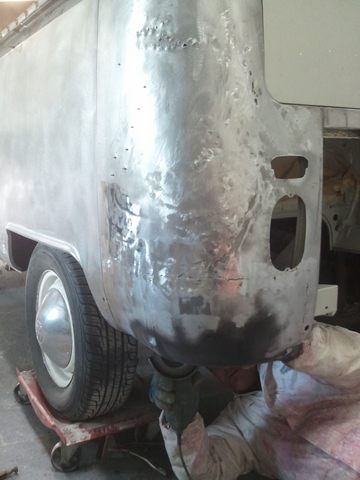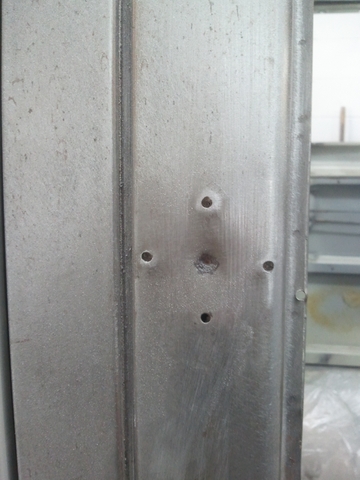 Holes and dent deleted out of the window pillar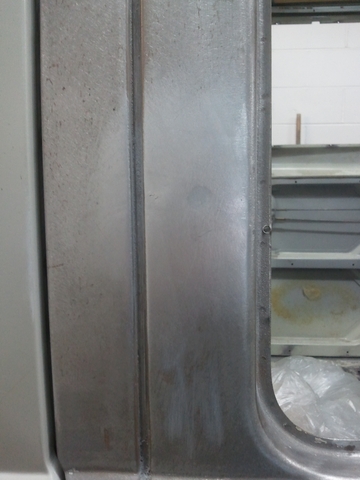 Westy awening channel removed and the 32 holes welded up!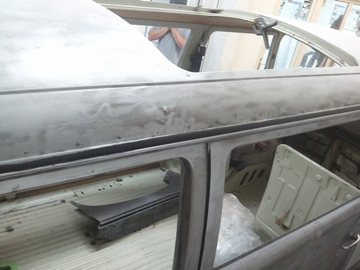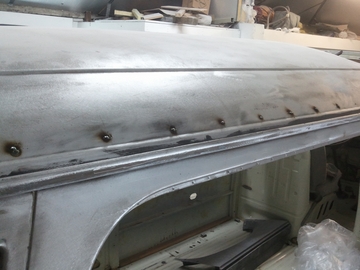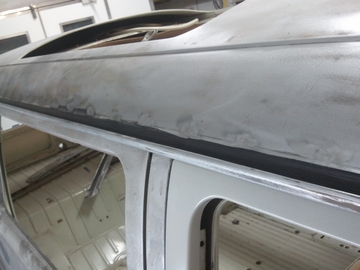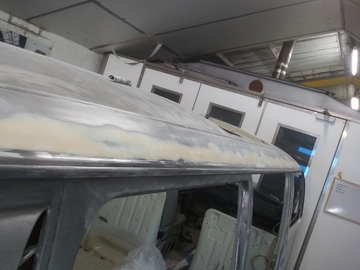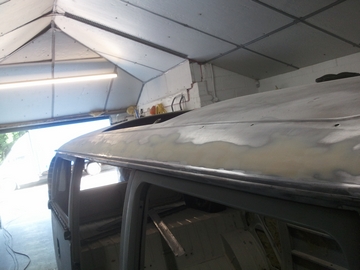 More accident damage, here the inner arch is pushed out.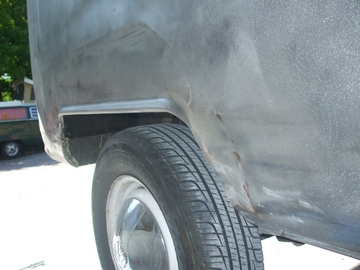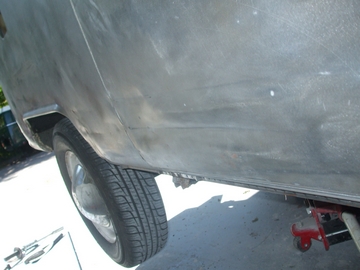 Dents pulled and heatshrunk the metal to tighten it all up again.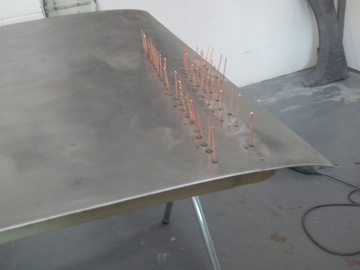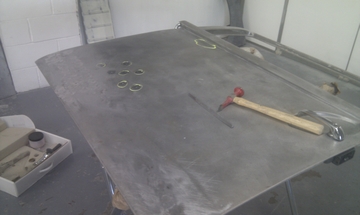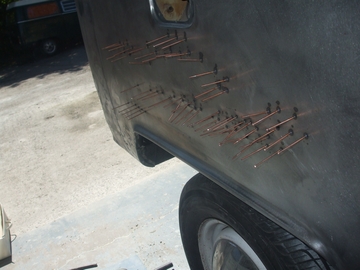 90% Pulled out for very minimal filler.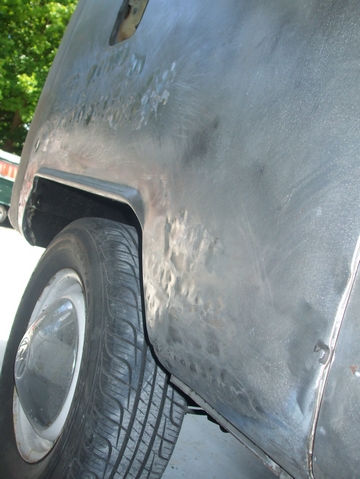 Holes blown in the wheel arch from a previous battery tray repair.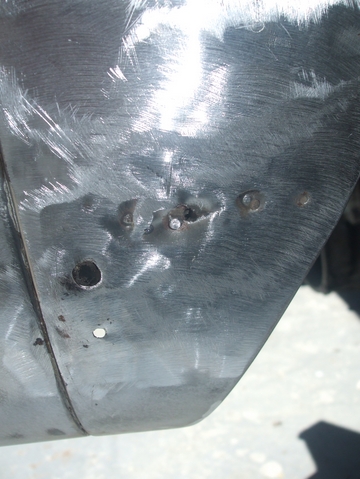 Lead loaded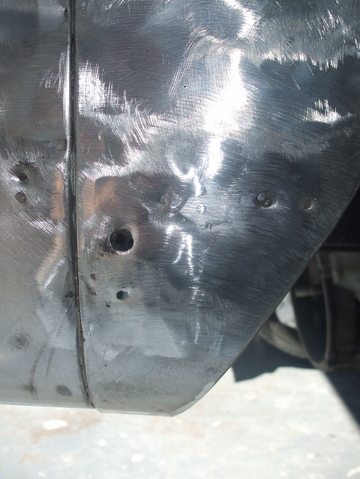 Front skim coated to remove all the ripples.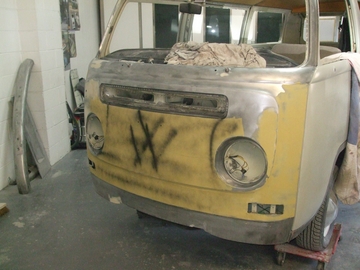 Corners skimmed up and now looking very streight.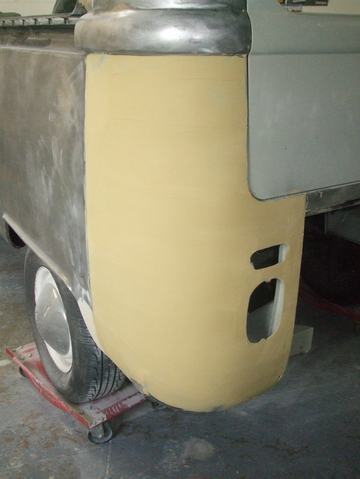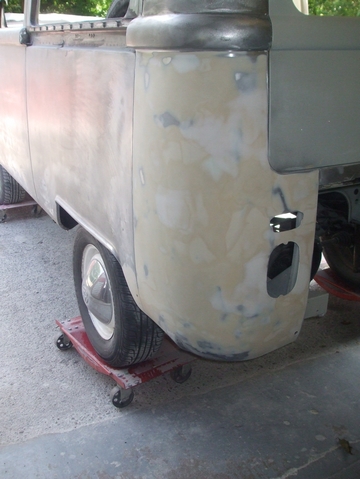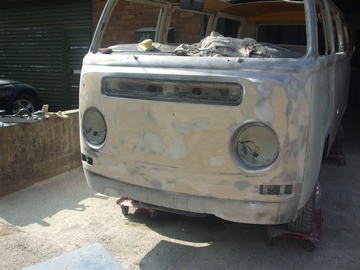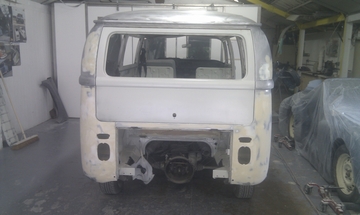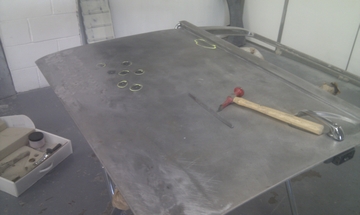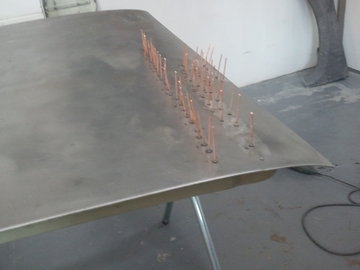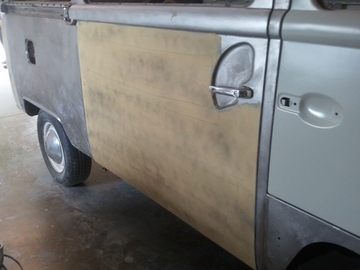 All the ripples smoothed now with a thin skim coat!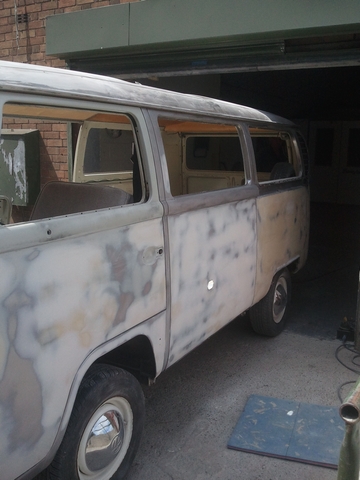 In the booth and baked at 70 before any coating is applied.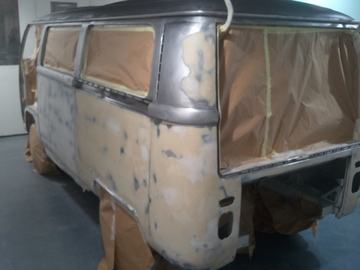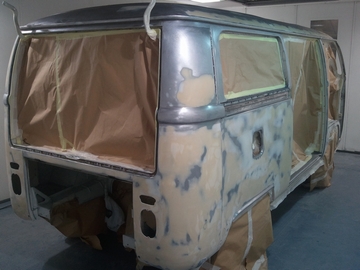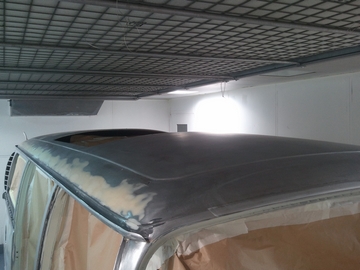 Due to our standards the van and panels took more work and time than anticipated
Sealer time!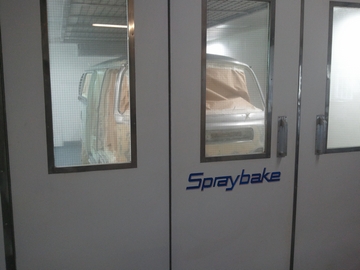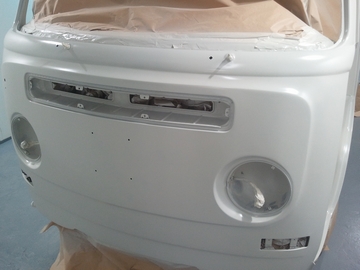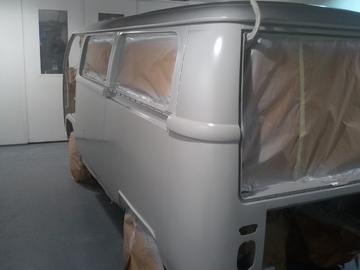 Followed by 2k surfacer primer and a guide coat.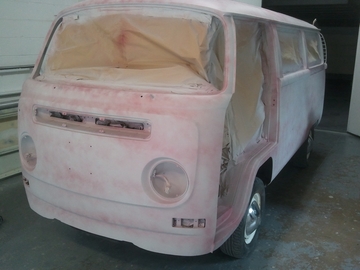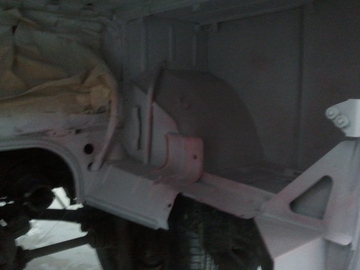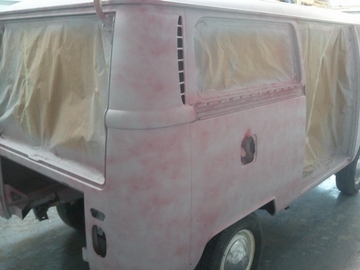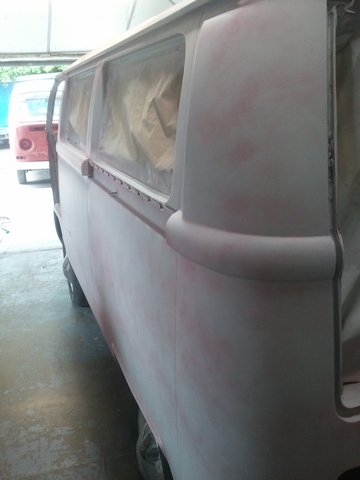 Block sanded down and looking damn straight!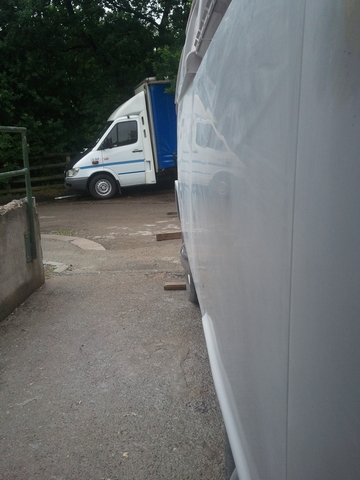 Battery tray re sealed to the new corner.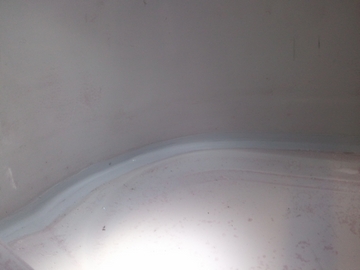 Engine bay painted.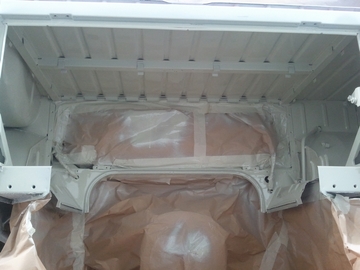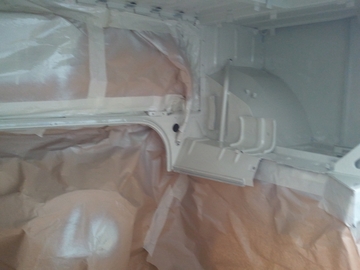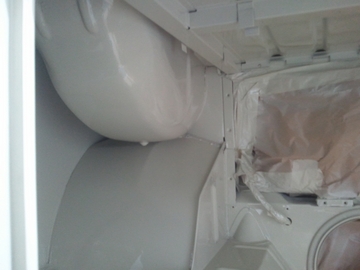 Vents properly painted!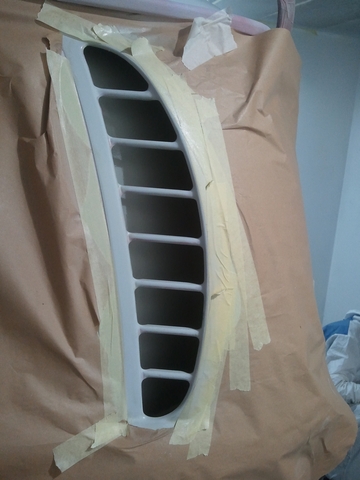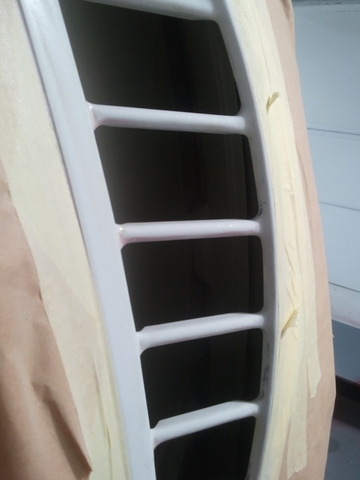 All seams re sealed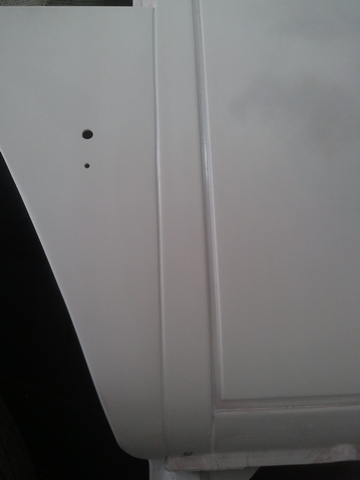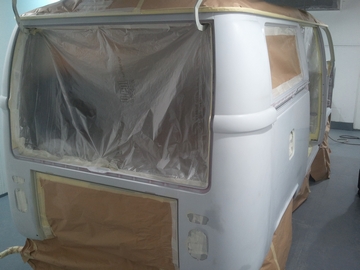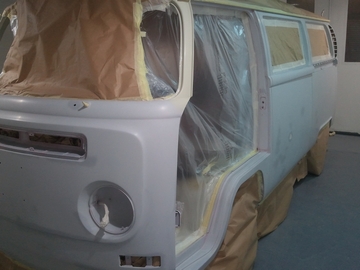 In the booth, top coated and baked at 60 degrees !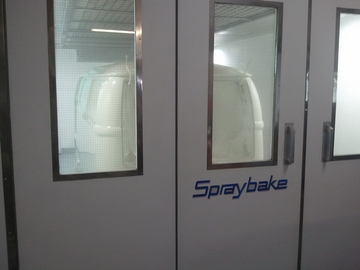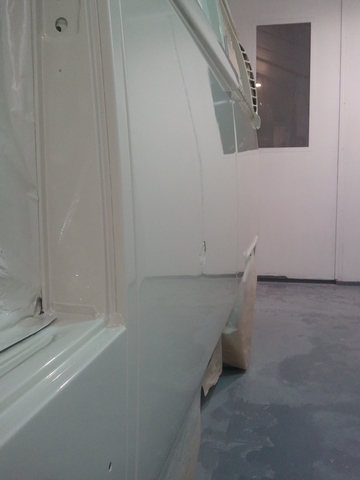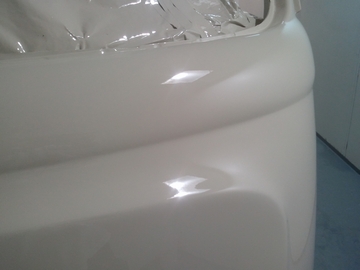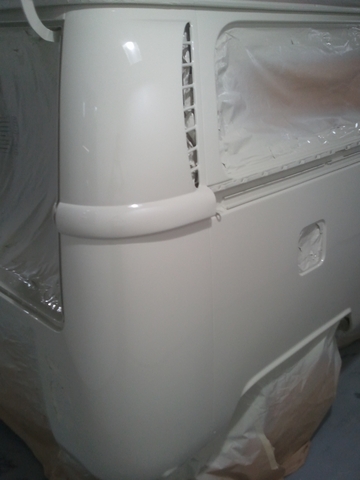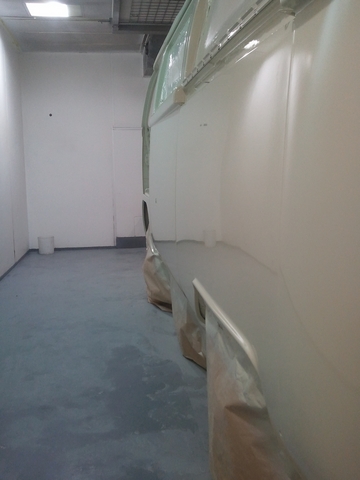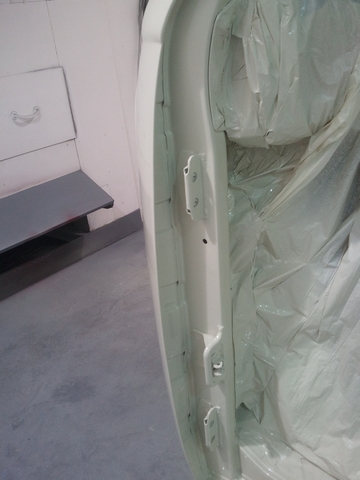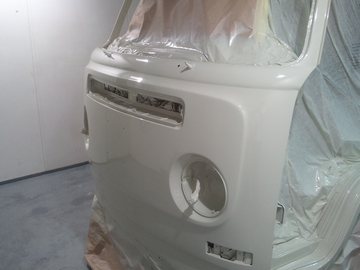 Engine back in place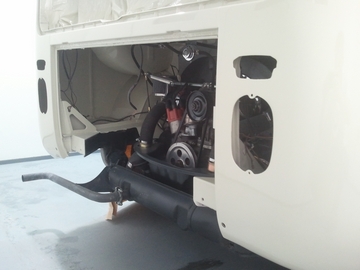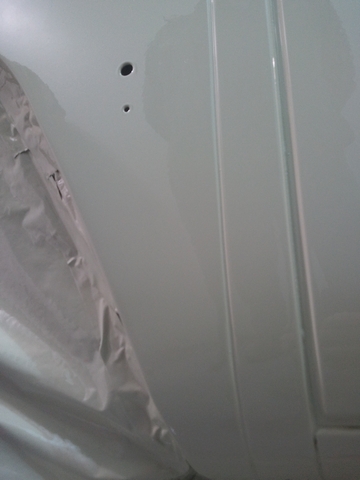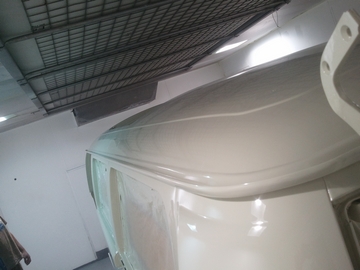 No awening chanel holes no more!!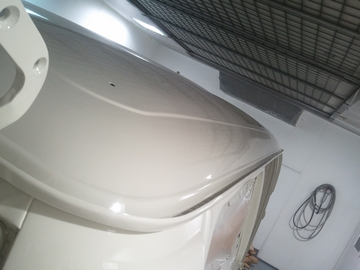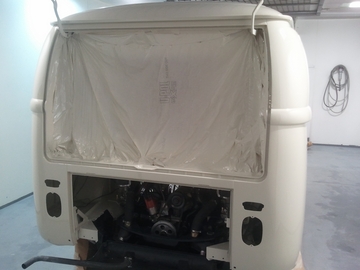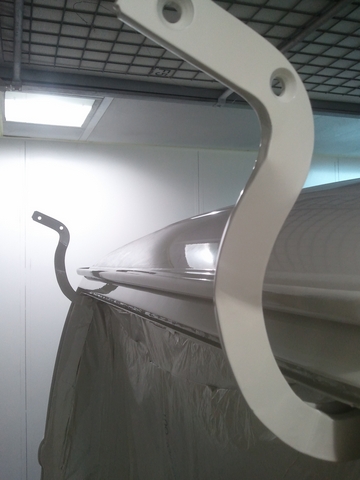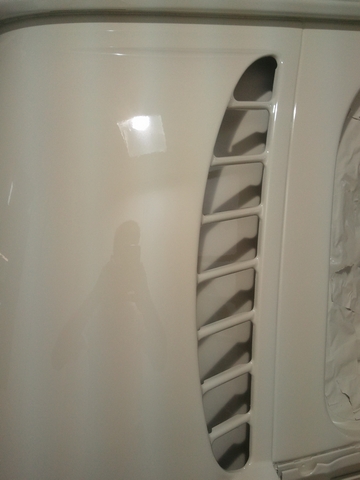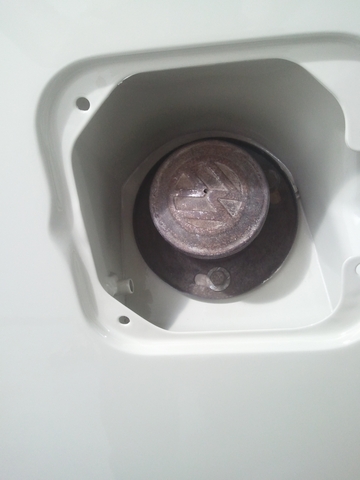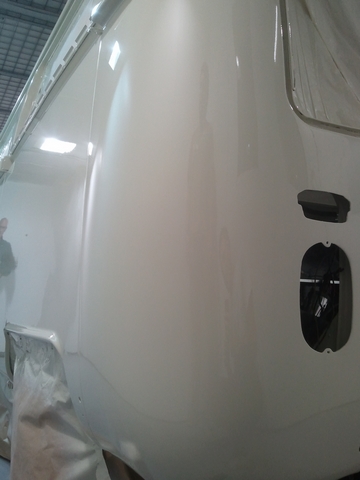 Tank cover tinted and painted to and original colour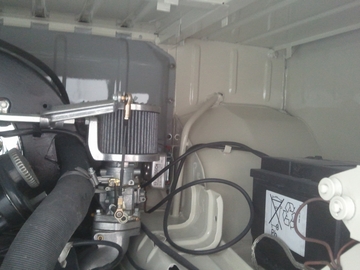 No signs of previous damage or welding here!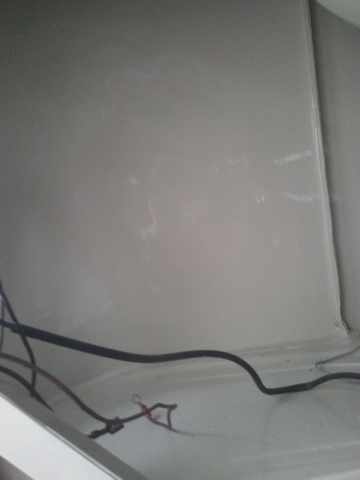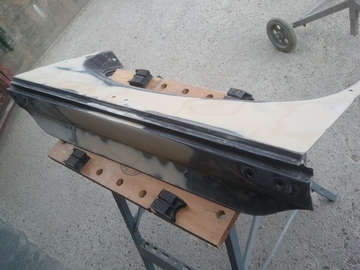 Panels primered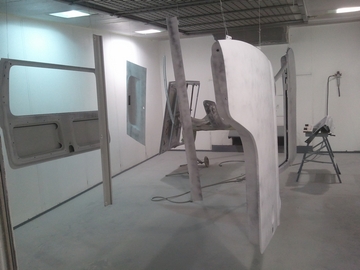 Pop top wood struts rotten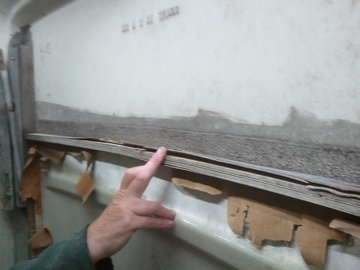 Plenty of cracks in the fibreglass topside aswell as the usual gel coat destroyed.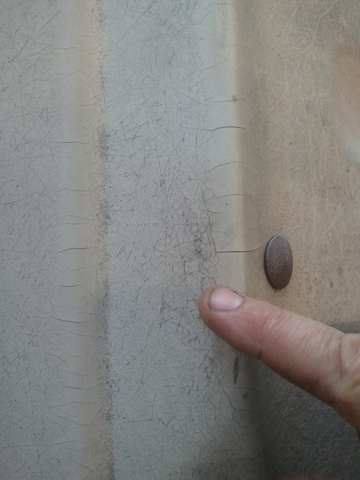 Rotten wood removed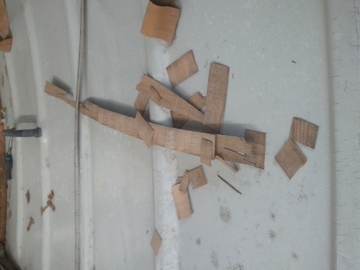 Cracks in the joins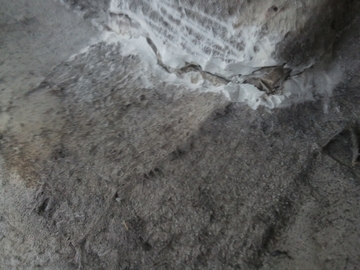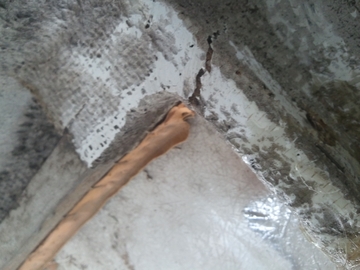 Re fibreglassed with matt and resin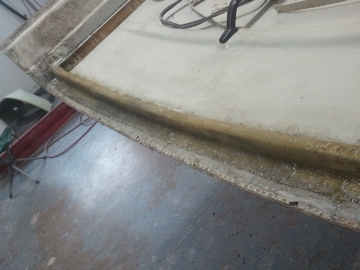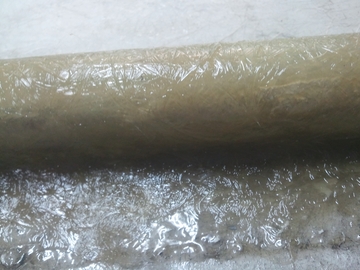 Topside prepped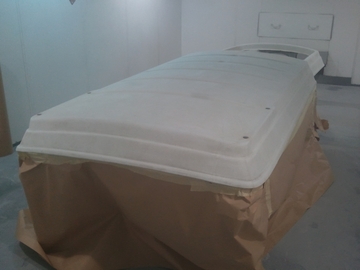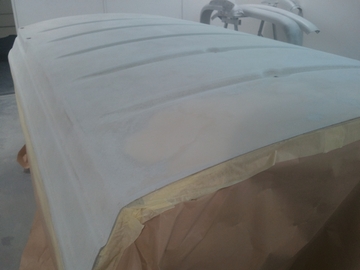 Fibreglass sealed and painstakingly flatted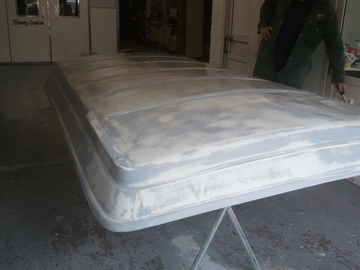 Textured coating aplied to qive us a nice surface to work on top of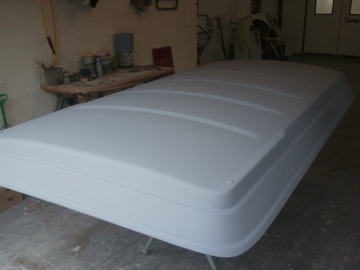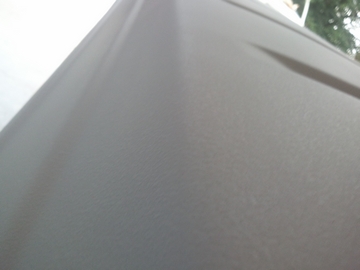 Painted cloud white and glossed down with a matting agent to a satin sheen.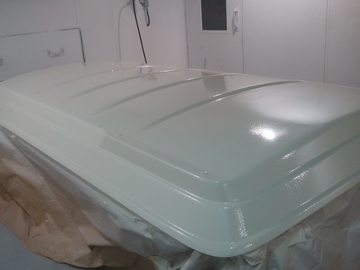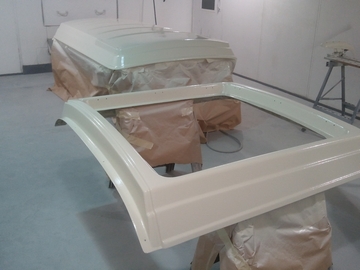 Bumpers are freshly glossy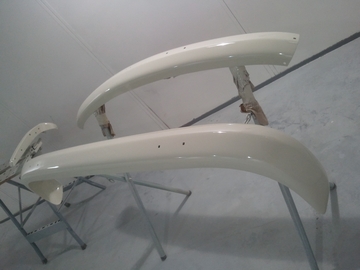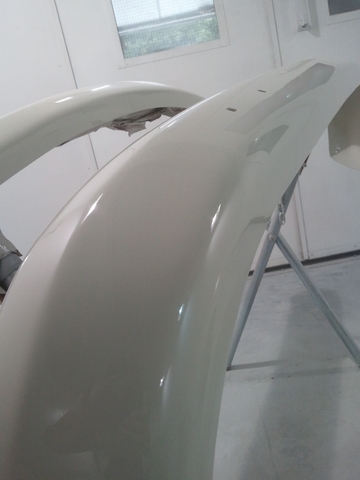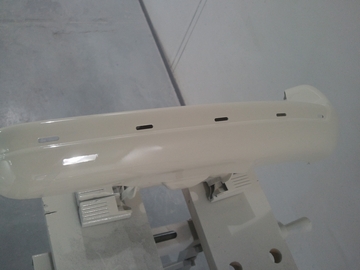 Roof rack detailed!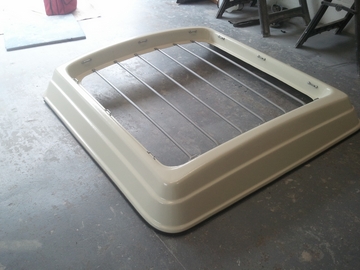 Jk canvas fitted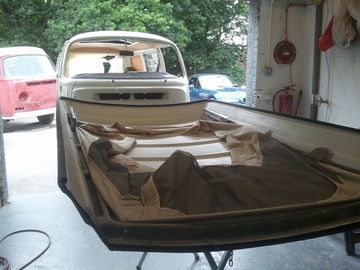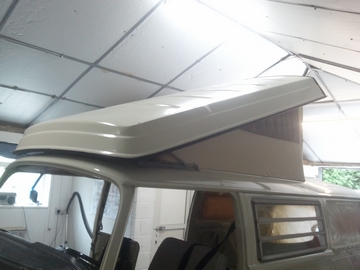 Vent covers painted although these are never seen.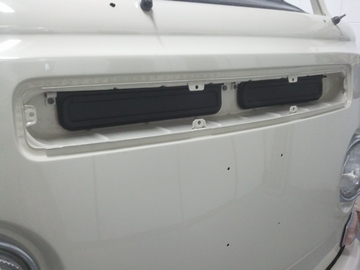 Panels painted, shell polished, doors hung back on and all lights,windows and fittings re installed.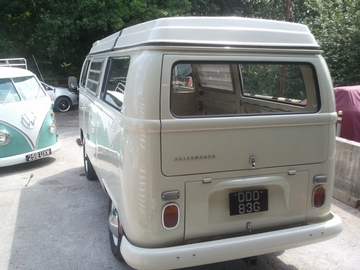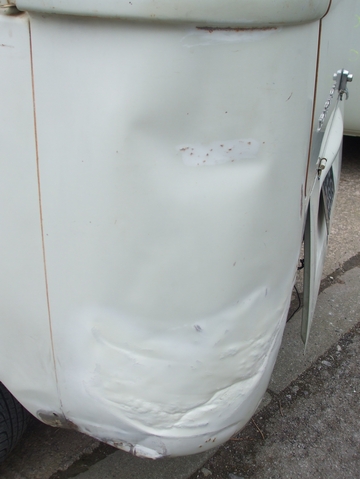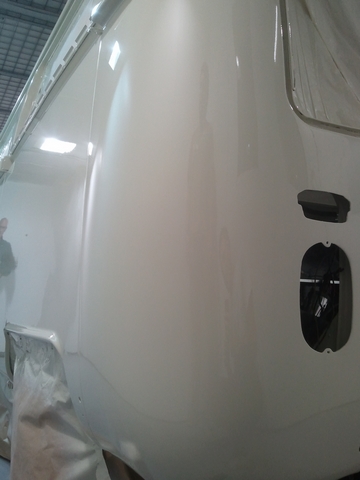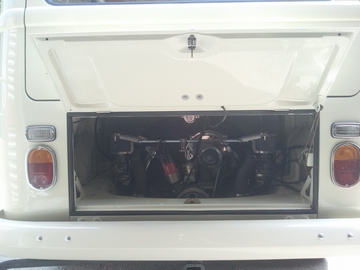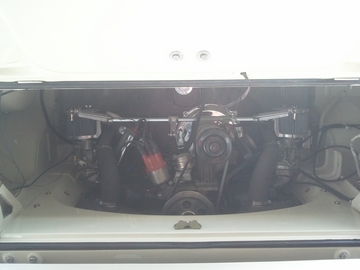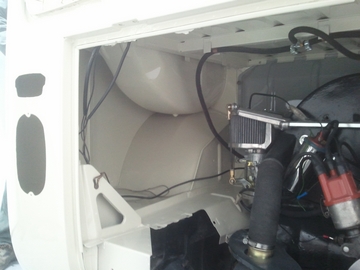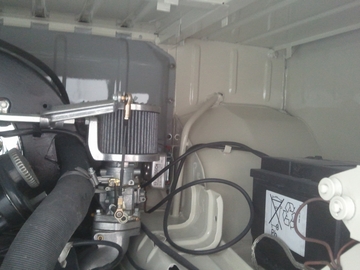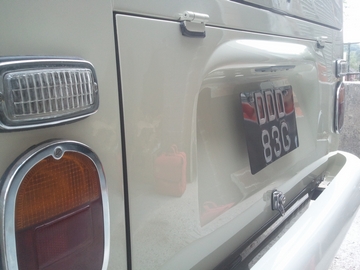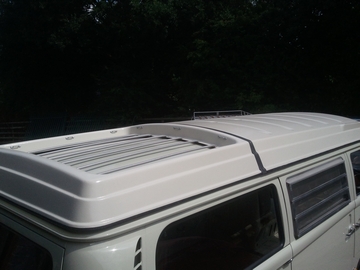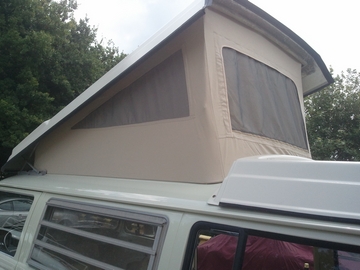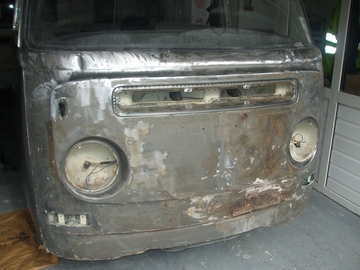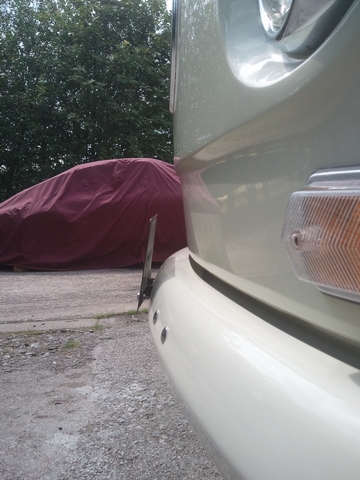 Nice and straight !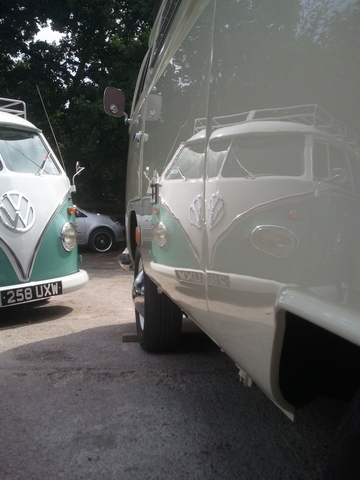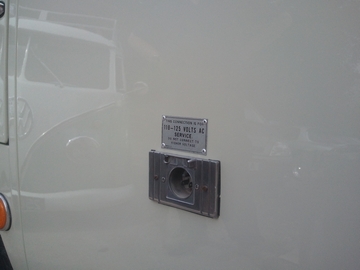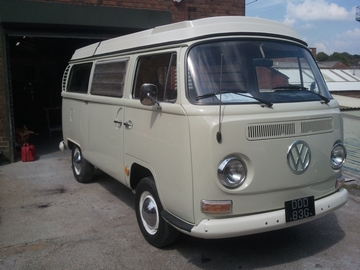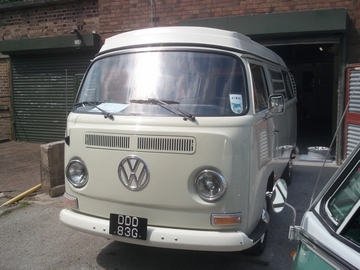 Before With every panel badly beaten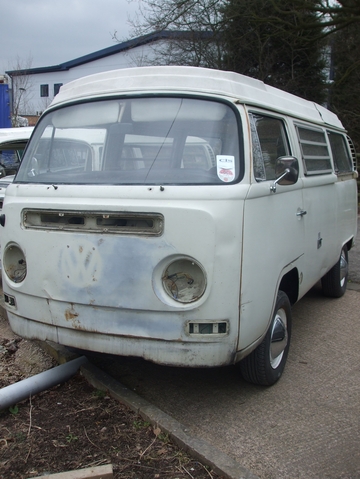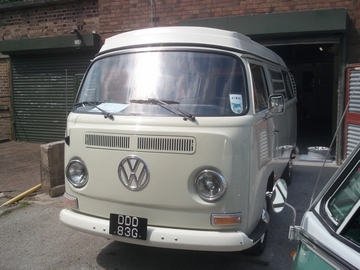 You can follow other blog entries via the RSS feed. You can also leave your own response. Site administrator reserves the right to reject any replies that are deemed inappropriate.

Comments ( 4 ) - Add Your Comment
---
ENGINE BAY LOOKS REALLY GOOD,IT IS COMING ON GREAT!

by mark on 30 April 2011 19:49
---
Argh thanks so much Marky for getting this ready for my 40th Birthday. You are so generous, thanks Bro !!!!! :-)

by Chelle on 24 June 2011 20:20
---
That looks one straight bus, i spoke to you both at Stanford hall,can`t wait to see the project bus.
Dave

by David Pryce on 27 June 2011 9:26
---
what a beautiful job,absolutely first class.
cant beleave it is the same vehicle,i keep going round to look at it.
michael mark inlaw

by michael beach on 11 August 2011 18:54
---